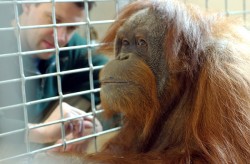 Knobi, an adult female orangutan, collaborates with Robert W. Shumaker. Great Ape Trust photo.
Great Ape Trust of Iowa and Drake University are collaborating to bring primate studies to the University's curriculum and to create research opportunities for students and faculty.
"Collaborations and partnerships like this are key in developing interdisciplinary scholarship and teaching at Drake University," said Keith Summerville, associate dean of the College of Arts and Sciences and assistant professor of environmental science.
"Great Ape Trust is honored and strengthened by this newest academic partnership. Drake University has a long history of leadership in our community and now that vision will reach around the world," said Great Ape Trust Founder Ted Townsend. "Together, we can further generate profound insights through collaborations with apes."
The joint fundraising partnership will help develop an awareness and depth of understanding for primate mental abilities, evolutionary history, behavior and conservation through Drake education and research projects.
Beginning this fall, Drake will offer a concentration in primate studies through the College of Arts and Sciences. The track of study requires courses in primatology, primate cognition and learning, primate conservation and a primatology senior capstone project.
The three-year funding also supports opportunities for Drake students and faculty to collaborate with scientists and scholars at Great Ape Trust.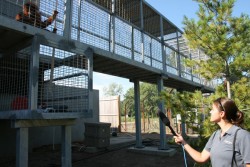 Jacqueline Mobley records orangutan Rocky's vocalizations as part of her internship at Great Ape Trust of Iowa. Great Ape Trust photo.
This summer, three Drake seniors have internships with the trust. Jacqueline Mobley of Davenport, Iowa; Gregory Farris of Denver; and Anna Rice of Mahtomedi, Minn., are working on projects such as researching and recording ape vocalizations and locomotion activity.
Drake students can partake in summer research experiences with Great Ape Trust scientists in Iowa or join in research abroad with the Great Ape Trust or its affiliated research and conservation sites.
Funding also covers research projects between faculty and Great Ape Trust. Professors will have the opportunity to propose research projects within and outside natural sciences.
As part of the collaboration, visiting scholars will teach courses or seminars during the academic year at Drake.
"In the past, courses have been primate reintroduction biology, primate cognition and primatology, although many others are possible," Summerville added.
Drake's relationship with Great Ape Trust began in 2005 when Robert W. Shumaker, director of orangutan research at the trust, was appointed a university fellow and started teaching Introduction to Primatology at Drake.
Great Ape Trust scientists Karyl Swartz, Serge Wich and Benjamin Beck have taught at Drake in the past, and are currently supervising Drake students with Great Ape Trust internships.
Great Ape Trust of Iowa
is a scientific research facility in southeast Des Moines dedicated to understanding the origins and future of culture, language, tools and intelligence. When completed, Great Ape Trust will be the largest great ape facility in North America and one of the first worldwide to include all four types of great ape — bonobos, chimpanzees, gorillas and orangutans — for noninvasive interdisciplinary studies of their cognitive and communicative capabilities.