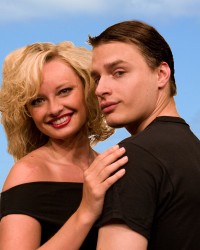 Juniors Alexis Van Vleet and Sam Button-Harrison drew positive reviews for their "supple well-matched voices."
MEDIA CONTACT: Lisa Lacher, 515-271-3119, lisa.lacher@drake.edu
Drake students Alexis Van Vleet and Sam Button-Harrison play sweethearts from different sides of the fence in this summer's production of the musical "Grease" at the Des Moines Playhouse.
Van Vleet, a junior from Urbandale majoring in vocal performance, plays the good-girl role of Sandy Dumbrowski. Button-Harrison, a junior from Conrad, Iowa, majoring in musical theatre, plays greaser Danny Zuko.
Both actors received positive reviews in the Des Moines Register.
"Sam Button-Harrison (Troy Bolton in last year's 'High School Musical') makes a sufficiently macho Danny Zuko, managing to sulk and dance with equal skill, while Alexis Van Vleet ('Footloose,' 'Cats') plays Sandy Dumbrowski with a mix of sweetness and reserved strength," wrote reviewer Michael Morain.
"As soon as the pair dishes about their 'Summer Nights' — a tough song because it's so familiar — their supple well-matched voices set the audience entirely at ease. We really do want them to tell us more."
The cast also includes another Drake student and a Drake graduate:

Danika Portz, a sophomore from Remsen, Iowa, with a double major in accounting and marketing, plays Marty.
Steve Berry, who holds degrees in political science and law from Drake, plays Vince Fontaine, the DJ judging the high school dance contest, through Aug. 3, when Maxwell Schaeffer takes up the role for the remaining performances.
Tony Award-winning "Grease" was made famous by the 1979 film version, numerous tours and the version currently on Broadway. The show's many hit songs include "Summer Nights," "We Go Together" and "Greased Lightnin'."
The Playhouse production is directed by Ron Ziegler, with musical direction by Brenton Brown and choreography by Alison Shafer.
Performances began on July 18 and continue through Aug. 10. Show times are 7:30 p.m. on Wednesdays and Thursdays, 8 p.m. on Fridays and Saturdays and a Sunday matinee at 2 p.m. Tickets are $24 to $35 for adults, $20 for students.
Tickets are available at the Playhouse ticket office, by phone at 515-277-6261 and online.
The Des Moines Playhouse is Iowa's oldest and largest producing theater and is located at the 42nd Street exit of I-235. Learn more about The Playhouse online.