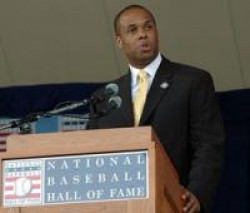 "My father's legacy is a message of hope and courage," Tony Whiteside said as he accepted the award on behalf of his father, Larry W. Whiteside.
Courtesy of MLB.com
COOPERSTOWN, N.Y. — For the second straight year, a Drake University graduate was enshrined into a major sports Hall of Fame, being recognized for his media contributions.
Larry W. Whiteside, a 1959 graduate, was posthumously awarded the J.G. Taylor Spink Award, presented annually during the National Baseball Hall of Fame induction ceremonies Sunday, July 27.
The award honors meritorious contributions to baseball writing. Whiteside, who received his bachelor's degree in journalism from Drake, began his 45-year journalistic career at The Des Moines Register from 1957-59. He later worked in Kansas City, Milwaukee and Boston.
Longtime Phoenix Suns announcer Al McCoy, a 1954 graduate of Drake, received the Curt Gowdy Media Award during the Naismith Memorial Basketball Hall of Fame ceremonies Sept. 7, 2007.
Tony Whiteside accepted the J.G. Taylor Spink Award on Sunday for his father, Larry Whiteside, who died last year. Additional information and video of the awards ceremony can be found on the Baseball Hall of Fame Web site.
The younger Whiteside spoke eloquently and admirably in honoring a journalist whose influence was felt beyond his readership.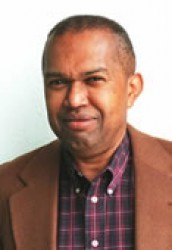 Larry W. Whiteside
Larry W. Whiteside was the 59th recipient of the award, and the third African-American, behind Wendell Smith in 1993 and Sam Lacy in 1997.
A respected reporter who spent 31 years of his career with The Boston Globe, Whiteside made it easier for other African-Americans to follow. In 1971, he assembled and circulated among editors a database of qualified black journalists. At the outset, The Black List had nine names; by 1983, it numbered more than 90.
Born in Chicago on Sept. 19, 1937, "Sides" also worked at the Kansas City Kansan and Milwaukee Journal Sentinel. He covered Hall of Famers Hank Aaron, Eddie Mathews and Warren Spahn with the Braves before the franchise moved to Atlanta, following the 1965 season.
When Whiteside moved into the Boston Red Sox beat in 1973, he became the only black reporter regularly covering Major League Baseball for a major daily.
In 1980, having met the 10-years-on-the-beat qualification, he became the first black Hall of Fame voter.
"Indeed, my father's legacy is a message of hope and courage," Tony Whiteside said Sunday. "While it is tempting to view my father's career strictly through the prism of race, he didn't see things that way. He was a hard-working journalist, and a baseball man above all else.
"And he earned the respect of others as a talented writer, colleague and friend."
As Red Sox beat writer in 1986, he authored the game story on the team's heart-wrenching and ignominious collapse in Game 6 of the World Series against the New York Mets.
He wrote of that fateful Saturday night at Shea Stadium: "The Miracle Mets have returned to Shea Stadium. And the demons of 68 years' worth of failure will haunt the Red Sox for at least another day."
When Tony Whiteside finished his speech, master of ceremonies George Grande thanked the younger Whiteside.
"Tony, you fill those shoes just fine," Grande said. "Pop's up there watching, and he's proud."