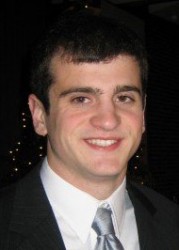 Mark Micheli
Journalism student works as freelance correspondent in Switzerland

By Emilee Richardson
This spring, an e-mail floated
into Mark Micheli's inbox titled, "Fwd: Summer internship in Geneva."
Immediately, distaste filled his mouth. "Geneva?" he thought,
"Why would I want to work in Geneva, Illinois?"
The first thing Micheli learned
through this experience was to read more closely.
After taking a closer look, he
learned that the Geneva was Geneva, Switzerland, and the internship was with
the United Nations.
Micheli of Glen Ellyn, Ill., is a
junior journalism and history double-major at Drake. In June, he embarked on a
three- to six-month apprenticeship as a freelance correspondent at the U.N.
Headquarters for Europe in Geneva, Switzerland. He described the opportunity as
"tantamount to a dream job."
To work at the United Nations, a
reporter must be accredited by a viable news source. Micheli is accredited by
The Des Moines Register and also writes for several international publications.
As a freelance writer, he is his
own boss, but typically works up to 12-hour days.
"Much of what I deal with out
here," he said, "is human rights — a topic that many domestic
publications often don't deal with. I hope to change that."
One of his biggest challenges thus
far has been the language barrier since Switzerland is a French-speaking
nation. When asked how he deals with the language differences, he responded,
"Not well." He is taking French lessons, but said he
admires the language mostly from afar.
Micheli also has created a blog to
"record the day-to-day, the culture shock, the trials of travel and
the evolution of [his] international consciousness."
Read "Across the Pond U.N.," online.
Part of his blog was broadcast on CNN only a few days into
his apprenticeship.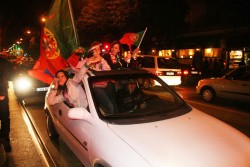 Fans celebrate in the streets of Geneva. Photo by Mark Micheli.
During his first week in Geneva, an ordinary trip to an
Internet café turned into one of his first real journalistic experiences. In
his blog, Micheli described what he witnessed immediately after Portugal
defeated Turkey in Euro 2008, a major European soccer tournament.
"The streets erupted and the
world came undone," he wrote. "Traffic stopped as seemingly insane
fans ran down the street in between traffic, banging on cars as horns honked in
encouraging adulation."
He posted the photos and his
memories of the evening on CNN.com. Its service, iReport, allows people around
the globe to contribute their own pictures and video of breaking news.
Micheli's photos were selected to air on CNN's news coverage on June 10. View
the photos online.
Other entries in his blog include
topics as lighthearted as a congratulation message to Sen. Barack Obama to more
somber topics such as "Silent Genocide and Depleted Uranium."
Micheli has much to look forward
to in his coming months abroad. Already, he has attended many prestigious
events, including a reception at the home of the Greek Ambassador to
Switzerland.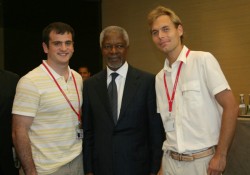 Mark Micheli (left) with Nobel Peace Prize winner Kofi Annan (center).
He also recently met and spoke
with former U.N. Secretary-General and Nobel Peace Prize winner Kofi Annan at a
press conference in Geneva. Micheli questioned him about biofuels and the food
crisis.
If he chooses to stay in Geneva
through the fall semester, he will have opportunities to travel to Greece and
possibly Sudan and Sri Lanka.
So far, the most significant thing
he has learned is never to simply trust what you hear or read. His advice for
becoming an informed citizen is to "always ask questions, seek answers and
be insatiable in your quest for truth."