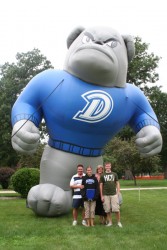 From left: Tom, Stephanie, Connie and Stephen Oczak of Shoreview Minn., pose for a photo with Spike.
MEDIA CONTACT: Lisa Lacher, 515-271-3119, lisa.lacher@drake.edu
High school students and their families are invited to learn more
about Drake University and the college search process by visiting
campus during Iowa Private College Week: Aug. 4-8.
Tours and important information sessions are held twice a day
at each of the participating private colleges and universities —
beginning at 9 a.m. and 1:30 p.m. Students and families can
conveniently visit two colleges in one day, or several during the week.
"It's perfect timing for students going into their senior or junior
year, " said Deneen Dygert, Drake associate director of admission.
"They can check out the opportunities available to them at any of the
29 private colleges and universities across Iowa while saving both time
and money."
Students who visit Drake's campus Aug. 4-8 will have their
application fees waived at any Iowa private college or university if
they visit three or more campuses that week.
To schedule a Drake visit during Iowa Private College Week, register online or call 1-800-443-7253, ext. 3181.
Drake's sessions will begin in Old Main, 2507 University Ave., with
a welcome from Drake President David Maxwell. The sessions also will
feature:

Academic meetings with faculty
A panel discussion with current students
A presentation on the admission process and financial aid
A campus tour
A complimentary lunch in Hubbell Dining Hall
A more detailed agenda and campus map are available online.
More than a dozen local hotels are joining the University in
welcoming visitors by offering discounts to families participating in
IPCW. A list of these hotels is posted online.
In addition, many businesses in the Drake Neighborhood are offering
discounts for IPCW participants. A list of these businesses, as well as
places to go and things to see in Des Moines, is available online.
"We appreciate the generous support of our neighborhood and
business community," Dygert said. "We're also grateful for the
contributions of the campus community — from faculty members who
conduct academic overviews to current students who give tours and join
in panel discussions."



This is the 10th year that the Iowa Association of Independent Colleges and Universities has sponsored IPCW.
Drake has registered nearly 550 prospective students this year, up
from 458 last year and 192 back in 1999 — the first year of the
program.
"Drake played a key role in the development of Iowa Private College
Week," Dygert said. "What began as a good idea 10 years ago has now
become a great tradition."