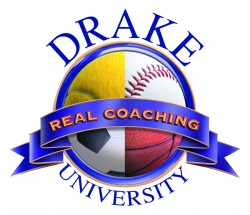 Real Coaching offers solutions for coaches and physical
educators with busy lives
By Michelle Thilges
For busy coaches like Mike Saylor of Terra Haute, Ind., Drake's
Real Coaching program offers user-friendly and convenient video courses that
fit into hectic schedules.
"The format is best in terms of the education, because
of the video format and the workbook," said Saylor, head coach of the
boy's basketball team and a driver's education instructor at Terre Haute South
Vigo High School. "You can work at your own pace. This is real good stuff.
It is practical information that coaches can use."
Saylor began taking the courses to renew his licenses to
coach and instruct that require him to complete graduate-level courses.
License renewals are just one reason to take the 11
graduate-level courses that Drake offers for coaches and physical educators.
The courses also can help teachers move up the pay scale or
count as elective classes in some graduate programs, said Chuck Sengstock,
director of Extension Education at Drake.
"The format works well because coaches and educators
can take the courses on their own time and don't have to worry about getting
online or attending classes on a campus," Sengstock said. "The goal
is for the coaches to take the content and immediately apply it."
Extension Education partners with Championship Productions
in Ames, Iowa, to develop and produce video courses for students. The course
materials, including the videos, text and a study guide, are delivered to the
student's home.
Saylor is one of many coaches benefiting from the program.
Real Coaching has grown considerably since its beginning in
the late 1990s. In the 2008 spring semester, a record 600 people enrolled in
these courses — the highest number of participants since 448 enrolled in 2004.
Sengstock attributed the recent increase to the high quality
of the instructors.
"We've had authors including former Drake football
coach Steve Loney, who is now the offensive line coach for the St. Louis Rams,
and the Portland Trailblazers Director of College Scouting, Chad
Buchanan," Sengstock said. "These professionals author the courses
and decide what content to include in the videos and study guides as well as
who to interview and feature in the courses."
The program started under Jan Ahlman McMahill, FA'71, GR'76, now the dean of the
School of Education. McMahill identified a need for courses specific to coaches
and teachers of physical education.
McMahill spearheaded the development of the first three
courses — Real Coaching, Theory of Coaching and Ethics in Sports. From there,
more courses have been developed, including three for specific sports:
football, volleyball and basketball.
Although the summer semester has already started, students
can enroll through Thursday, Aug. 21, online.