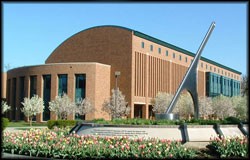 Drake Law School receives national award for professionalism
Drake University Law School has been selected as a 2008 recipient of the American Bar Association's Gambrell Professionalism Award.
In announcing the annual award, the ABA Center for Professional Responsibility recognized Drake Law School for its implementation of "an innovative and integrated approach to teaching legal ethics and professionalism."
"We do offer an outstanding program in professionalism and ethical and professional development, and it's just terrific to be recognized for it by the ABA Center for Professional Responsibility," said Drake Law School Dean Benjamin B. Ullem, LA'66, LW'69. "This is something to celebrate."
The ABA noted that in addition to the required upper level professional responsibility course, Drake Law School has developed an extensive professionalism curriculum that spans the entire first year and includes:

A multi-faceted orientation program that introduces students to legal ethics and professionalism;
A concentration on ethical and professional considerations in the required legal writing course;
A Trial Practicum, which provides a week-long immersion in an actual jury trial;
Supreme Court Week, a celebration of the law school's relationship with the bench and bar that reinforces the importance of professionalism and ethics and recognizes academic excellence, leadership and service.
"The goal of Drake's program of instruction is established in the first year and enhanced by the variety of offerings in the upper-class curriculum. Moreover, the Law School seeks to distinguish itself as an institution that provides a unique emphasis on skills and theory saturated with a focus on how ethics and professionalism concerns inform and direct lawyering behavior."
Law School to receive award at ABA annual meeting
The Gambrell Professionalism Awards honor projects contributing to the understanding of professionalism among lawyers. Drake Law School will receive its award, which includes a check for $3,500, at the ABA's annual meeting, scheduled for Aug. 7-12 in New York City. Law schools, bar associations, law firms and other law-related organizations are eligible for the awards. Drake is the only law school honored this year.
The Gambrell Awards were established in 1991 and are named for E. Smythe Gambrell, ABA and American Bar Foundation president from 1955-56. Gambrell founded the Legal Aid Society in Atlanta, where he practiced law from 1922 until his death in 1986.