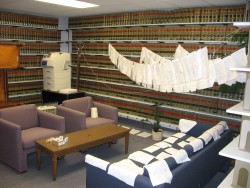 Professor Peter K. Yu hung his papers out to dry after heavy rain soaked his office in Cartwright Hall.
Through the heavy rains in early June, Drake sustained water damage in eight campus buildings during the recent 2008 Iowa floods. The University was fortunate to escape the flooding that plagued parts of Des Moines and large areas of Cedar Rapids and Iowa City.
The Law School's Cartwright Hall as well as Harvey Ingham Hall, Cline Hall and the Kinne Center were impacted most by the weather, which left collapsed ceilings, soaked books and standing water.
While Drake's facility services crew was repairing the damage — cleaning, disinfecting and dehumidifying — the University was hosting several groups on campus.
Click here to view the full news release.