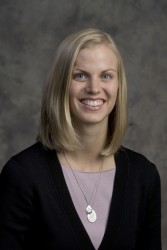 Sally Hanson Haack
Prof. Haack develops smoking-cessation program designed for Latinos
Sally Hanson Haack, PH'02, assistant professor of pharmacy practice, has developed a smoking-cessation program especially tailored for Latinos who want to quit smoking.
"The primary objective is to develop culturally appropriate smoking cessation interventions that reflect Latino values and beliefs," Haack said. "The secondary objective is to dispel misconceptions about smoking and to increase awareness of the importance of smoking cessation in the Latino community."
Research has found that beliefs and values regarding smoking are different in Latinos compared to non-Latino whites. For example, Latinos' motivation to quit was more often associated with loyalty to family, especially concern that children in the home might be harmed by second-hand smoke.
Reasons for quitting smoking also were found to be different in the two groups. Latinos were more likely to think about quitting because of being "criticized by family" or to set a "good example to children."
Accordingly, Haack's program emphasizes family concerns and strives to overcome language barriers by providing information in Spanish and having an interpreter available during counseling sessions.
The program is funded primarily by a $14,380 grant from the Community Pharmacy Foundation.
Haack conducts the program at the Community Access Pharmacy, which serves uninsured and underinsured patients at 600 E. 14th St. in downtown Des Moines.
Program participants receive four free sessions that provide information, motivation and strategies for quitting. They also get free gifts to help them stop smoking, such as nicotine patches and gum. Those who wish to try prescription aids such as Chantix or Zyban are able to obtain them at little or no cost through Primary Health Care, which also owns and operates the Community Access Pharmacy.
So far, four smokers have successfully completed the program, which continues through December. Haack's goal is to have 40 finish the program by the end of the year.
She hopes that Iowa's Smokefree Air Act, which took effect July 1, will prompt many more smokers to join the program. The new law prohibits smoking in public places, places of employment (including the Drake University campus) and certain outdoor areas.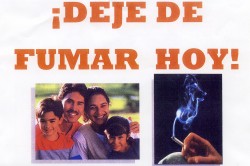 These fliers aim to recruit Latino smokers for the program by emphasizing concerns about family health.
In the weeks leading up to July 1, Haack advertised the program in
Spanish on a Spanish radio station and in the printed bulletins of
churches with large numbers of Latino members. In addition, she
distributed fliers at the HOLA Center and
Latino grocery stores, health clinics and other businesses.
"Now that there's no smoking allowed in bars, restaurants and most
public places, people have a good reason to quit smoking," Haack
said. "We hope to capitalize on that and help them stop smoking."
Pharmacy students doing clinical rotations at the Community Access
Pharmacy are involved in the program. They help with promotional
efforts and observe counseling sessions.
"It's been a great experience," said Lindsay Struebing, a fourth-year
pharmacy student from New Holland, Ill. "I've learned a lot about how
to use an interpreter effectively. It's also made me really want to
learn Spanish."