Members of the Drake Choir perform at St. Peter's Basilica.
Choir members share first-hand accounts of European tour
Highlights of the Drake Choir's recent European tour include singing in St. Peter's Basilica in Rome, touring the Sistine Chapel and the Coliseum, as well as visiting a Nazi concentration camp in Austria.
The choir, directed by professor Aimee Beckmann-Collier, traveled to Italy and Austria from May 22 – June 3, performing concerts in Rome, Assisi, Florence, Salzburg, Melk and Vienna.
The choir's visit to the Vatican included an excavation tour of the area underneath St. Peter's Basilica.
"There's a whole separate world," reported Ashley Welle in the Choir blog for Day 3. "There is a 16th century chapel, followed by a Constatinian monument to St. Peter, followed by a city built in honor of the dead, followed by the tomb of St. Peter, the first pope! The tour was utterly amazing, and literally brought me to tears. Only 250 people a day are even allowed to do this [tour], so we were very privileged."
After five days of performances and sightseeing in Italy, the 52 choir members took a train from Florence through the Alps to Salzburg,
Between performances in Austria, the students in the choir visited the Mauthausen Concentration Camp, where they saw the following words etched in a wall: "If there is in fact a God, he will have to beg for my forgiveness."
These words . . . will ring with me for a long time to come. . . " wrote Steve Patton in the Choir blog for Day 10.
"Our experiences at Mauthausen go far beyond religious beliefs and deal with issues of humanity and what humankind is capable of in its darkest hours."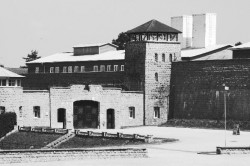 Students discovered there was no "right way" to respond to what they saw at the camp.
The blog includes the following brief history of the camp, which was built early in the Nazi occupation of Austria:
"It was a work camp. Prisoners worked in a stone quarry, were starved and suffered humiliating and inhumane torture. If the occupants did not die a natural death from these conditions, if one could even call it 'natural,' the camp used gas chambers and basic execution as methods of murder as well. Approximately 200,000 prisoners lost their lives there."
"If the choir took nothing else from this stop," Patton wrote, "I hope they found an understanding of how such a horrible thing could happen. The documentary and Holocaust Museum at Mauthausen outlined how these work camps were seen as no more than a business to the surrounding towns and to the guards working in the camps. We saw how the atrocities of what was happening inside the walls were kept quiet with inventions of odorless crematoriums and stories about dangerous convicts being kept in the prisons.
"As the modern world again experiences horrible acts of genocide in regions like Darfur and other similar places, I hope at least this small group learned that it is by the outside world doing nothing that these acts are able to continue. I hope we learned that if nothing is done soon, in 50 years people will be walking through museums in these areas wondering how no one today was willing or able to stop what is happening."
Another student, Maureen Malley, described the impact of viewing a documentary about the camp this way:
"Seeing the survivors of the camp on that screen, hearing their stories and then going out into the camp and retracing their footsteps, passing through those same halls, seeing those same sights was the most overwhelming, surreal and awakening experience I have had in this life.
"The stairs were especially powerful," she wrote. "Leading down to the stone quarry in which the prisoners worked is a path of some 200 narrow steps. As I headed down these stairs to meet the rest of the group and our bus at the base of the quarry, it occurred to me that for every step I took, it was as though I was accounting for 1,000 of the deaths at Mauthausen. Suddenly that descent seemed very long and weighty.
"After reaching the bottom of the quarry, I stood in silence for awhile, along with other members of the choir, just to take in the scene before me and to let the whole experience begin to sink in."

Following the tour, the choir met for an informal sing at the famed Melk Abbey, a huge and beautiful Benedictine monastery built in high Baroque style.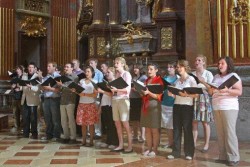 The Drake Choir sings 'Os justi' in the famed Benedictine monastery Melk Abbey.
"It was a very roomy space and our sound was spectacular," Malley wrote. "Awesome spin and resonance and all the lavish Baroque décor was fascinating to behold as we sang. The best part of this singing experience was how it closed our day.
"As Drake Choir sang 'Os justi,' the piece suddenly had so much emotion and purpose for us all. After having so recently been in a place of hopelessness and degradation, there was true enlightenment in singing a song of hope and security. We joined hands while we sang and let the sentiment flow through us and our sound."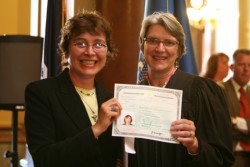 Maria Bohorquez, left, proudly holds her citizenship certificate with U.S. Magistrate Judge Celeste F. Bremer, GR'02.
Prof. Bohorquez takes oath of citizenship after 23 years in America
By Emilee Richardson
Twenty-three years after leaving Argentina for the United States, Drake University Professor of Chemistry Maria Bohorquez took the U.S. Oath of Allegiance on Thursday, July 3.
The naturalization ceremony, which was the last step in becoming a U.S. citizen, took place in the Rotunda at the State Capitol. With right hands raised, 93 men and women representing 27 countries spoke the words of the Oath of Allegiance. View photos of the ceremony in an online gallery.
Iowa Gov. Chet Culver, Sen. Tom Harkin and Iowa Secretary of State Michael A. Mauro spoke to the new citizens. Harkin began his speech, "I am glad to be able to address you as 'my fellow citizens.'" Mauro urged the new citizens to register to vote and exercise their new right. Each speaker also shared his cultural heritage and spoke of the many privileges of U.S. citizenship.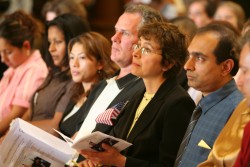 Maria Bohorquez joins 92 other new citizens in the Rotunda at the State Capitol.
Bohorquez faced a long naturalization process
Bohorquez, 52, initially planned to stay in the United States for only one year. She came to America in 1985 to conduct research, but said she felt so comfortable in the United States that she kept telling herself over and over: "One more year."
In order to become a U.S. citizen, Bohorquez first became a permanent resident, a process that took nearly a year. Next, she received a green card and began the five-year waiting period before a person can apply for citizenship.
Bohorquez hit a snag when, in 2001, she took a yearlong sabbatical in Argentina. "This 'resets' the clock," she explained, "So I had to wait another five years."
She finally qualified to apply for citizenship last July. After applying, she went through an interview process that included testing her English-proficiency and knowledge of U.S. history and politics. She passed the test, receiving a perfect score.
"It was pretty basic information," she said, "like the number of people in the House of Representatives and the Amendments to the Constitution. It's things [U.S. citizens] would learn in school, but I found it very interesting."
Looking forward to voting, feeling at home
After becoming a citizen, she said she's looking forward to voting and being eligible for opportunities like the Fulbright Scholarship Program, but mostly she just wants to feel at home. "You kind of feel like a stranger," she said. "This is the first step to truly feeling at home."

Professor Bohorquez was born in Necochea, Argentina, in the Buenos Aires province and received her undergraduate and doctoral degrees at the University of Rio Cuarto. After coming to the U.S. in 1985, she conducted research at the University of Notre Dame and Bowling Green State University and taught at Southeastern Louisiana University.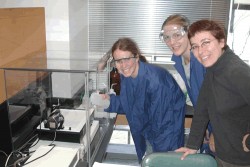 Maria Bohorquez, right, works with undergraduates on research projects.
In 1995, Bohorquez joined the Drake faculty as an assistant professor
of chemistry. She was promoted to associate professor in 1998 and to
professor in 2008. Her courses include general, physical and
biophysical chemistry as well as a senior seminar. She also directs the Drake Undergraduate Science Collaborative Institute,
a student organization developed to promote, support and coordinate
efforts to fund undergraduate research in math and science.
Bohorquez's research, which focuses on the molecular organization
of cell membranes, has been featured in numerous science journals and
publications. She has also been invited to teach several graduate
courses and seminars at universities around the country and in
Argentina.
She said she enjoys the challenge of teaching and mentoring students even though it can sometimes be a struggle.
"It's like having children," said Bohorquez, who doesn't have any children of her own. "You get to watch them become adults."
Bohorquez celebrated her first Independence Day as a U.S. citizen
by attending a barbecue her friends have organized to commemorate her
citizenship.

Innovative learning and life skills summer camp comes to Drake
This month Drake University will for the first time host two 10-day residential academic summer programs operated by SuperCamp, a leader in learning and life skills summer camps.
SuperCamp was co-founded in 1982 by Bobbi DePorter, president of Quantum Learning Network. SuperCamp's Quantum Learning educational methods also are used in schools nationwide by teachers trained in this methodology.
SuperCamp learning and life skills academic summer camps will be held on campus from:

July 13 – 22 for middle school students (Junior Forum)
July 25 – August 3 for high school students (Senior Forum)
SuperCamp is a dynamic summer program that has graduated more than 48,000 students worldwide in 26 years. Based on accelerated learning methods, SuperCamp prepares students for success with valuable learning and life skills that they apply at school and in their personal lives.
"The camp is grounded in brain-based educational research, with team-building and leadership training as well," said Eunice Merideth, associate dean of Drake's School of Education. "There are eight keys of excellence, which guides many of the activities."
"We are thrilled to add Drake to our list of outstanding colleges," said Joe Chapon, SuperCamp's vice president of Quantum Learning Network. "Families throughout Iowa and the entire Midwest who are looking for the SuperCamp experience for their children will find Drake to be an ideal setting."
Internship opportunity for student camp leaders
Drake's School of Education also has been chosen to host an online Internship course for SuperCamp team leaders and facilitators throughout the United States.
"This is both an honor and opportunity to connect with the strong teaching practices used by SuperCamp personnel and to enable staff members to obtain college credit while they are both teaching and learning," Merideth said.
Student camp leaders can earn college credit and documented practicum experience through the internship offered by Drake while serving as team leaders for SuperCamp. The three-credit internship will be available for undergraduate or graduate credit.
SuperCamp offers interactive, positive learning experience
At SuperCamp, there's no passive learning. Instead, campers engage in experiential exercises, dynamic mental and physical challenges, and team problem solving. Studies of SuperCamp graduates show positive results in the areas of increased grades, improved student motivation and higher levels of self-confidence and self-esteem.
Other U.S. SuperCamp locations in 2008 are Stanford, Cornell, Wake Forest, University of Washington, Colorado College, Claremont Colleges and California State San Marcos.
For more information or to enroll for SuperCamp, visit the Web site or call 800-285-3276.

Drake welcomes prospective students for Iowa Private College Week
High school students and their families are invited to learn more about Drake University and the college search process by visiting campus during Iowa Private College Week: Aug. 4-8.
Tours and important information sessions are held twice a day at each of the participating colleges and universities — beginning at 9 a.m. and 1:30 p.m. Students and families can conveniently visit two colleges in one day, or several during the week.
"It's perfect timing for students going into their senior or junior year, " said Deneen Dygert, Drake associate director of admission. "They can check out the opportunities available to them at any of the 29 private colleges and universities across Iowa while saving both time and money."
Students who visit Drake's campus Aug. 4-8 will have their application fees waived at any Iowa private college or university if they visit three or more campuses that week.
To schedule a Drake visit during Iowa Private College Week, register online or call 1-800-443-7253, ext. 2096.
Drake's sessions will begin in Old Main, 2507 University Ave., with a welcome from Drake President David Maxwell. The sessions also will feature: (bulleted list)
* Academic meetings with faculty

* A panel discussion with current students

* A presentation on the admission process and financial aid

* A campus tour

* A complimentary lunch in Hubbell Dining Hall
A more detailed agenda and campus map are available online.
More than a dozen local hotels are joining the University in welcoming visitors by offering discounts to families participating in IPCW. A list of these hotels is posted online.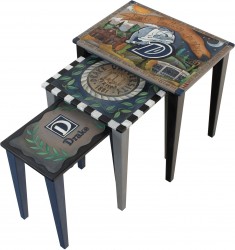 Drake-themed nesting tables
Local gallery offers handcrafted Drake merchandise
By Emilee Richardson
Sticks Inc., a local art studio that specializes in handcrafted furniture and accessories, recently received a license to produce Drake University merchandise. The gallery now has a line of Drake furniture and accessories.
Drake items available for purchase include tiles, mirrors, lazy Susans, remote trays, nesting tables and trunks. Each piece is handcrafted in Sticks' studio in Des Moines. All pieces are made from birch, poplar or driftwood found along local riverbanks, and the artwork is hand-drawn by local artists. View all Drake merchandise in an online photo gallery.
The company started in 1992, but has since received national acclaim for its distinctive line of furniture, accessories and object art. Items can be purchased in its studios or American Craft retail locations nationwide. Des Moines-area galleries are located in the East Village at 521 East Locust St. and the West Glen Town Center at 5525 Mills Civic Parkway, Suite 100, West Des Moines. For more information about Sticks Inc. or to view the entire catalog, visit their Web site.