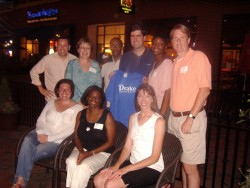 Bulldog Bashes bring alumni together worldwide
Casey Randall, LW'93, and Debbie Vander Wagen Randall,
PH'93, in Atlanta, were among dozens of Drake alumni who organized Bulldog
Bashes worldwide this spring. Among the Atlanta Bashers were (front row) Lori Cox, AS'95, Stephanie Powers, BN'89,
and Debbie Randall; (back row) Doug Cox, FA'95, Denise Lobodinski, JO'78, Brian
Gistover, BN'93, David Knauff, AS'92, Jennifer Bins, JO'06, and Casey Randall.
More Bulldog Bash photos will be posted soon on the Drake
alumni Web site; click on the left-hand link "Photo Galleries."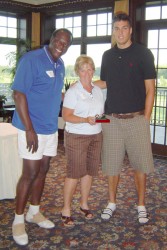 Dolph Pulliam, Barb Powers Hazlehurst and Jonathan "Bucky" Cox.
Alumni, friends have a ball at the Windy City Golf Outing
Approximately 80 Drake alumni and friends enjoyed a day of golf and goofing around at the 14th annual Windy City Golf Outing June 19 at the Makray Memorial Golf Club in Barrington, Ill.
Golfers enjoyed each other's company -– including that of Jonathan "Bucky" Cox, a star forward on the Drake men's basketball team -– while they vied for raffle and auction prizes. Frank Ursini, BN'73, a member of the golf outing committee, served as auctioneer.
Barb Powers Hazlehurst, JO'69, accepts her prize for longest drive from Dolph Pulliam, FA'69, and current forward on the Drake men's basketball team, Jonathan "Bucky" Cox.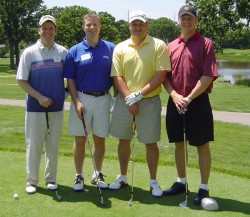 Eddie Baeb, JO'94; Jeremy Glenn, BN'94; Greg Schley and Nick Potthoff.
A foursome led by Jeremy Glenn and Eddie Baeb, JO'94, won the event, golfing a 59. Sue Rose Vandenbergh, LA'74, and Bill Esser, LA'74, got closest to the pin.
Other golf outing committee members were Jeff Barrett, BN'71; Roger Davison, BN'74; Chris Faber, BN'86; Jeremy Glenn, BN'94; Dan Litchfield, LA'80; Jon Lueken, BN'92; Lowell "Milo" Plavec, LA'70; Art Renier, BN'94; and Joe Welcome, GR'84.
Hole sponsors were Plavec; Mary Ferriss Barrett, ED'71, and Jeff Barrett; Susan Colloton Ursini, ED'75, and Frank Ursini; the Drake Chicago Advisory Board; Chicago-area Delta Gamma members; Litchfield Cavo LLP; John Klemenz, PH'90; S.W. Anderson Co.; and the Phi Delts, in memory of Janice Woolf Hazen, ED'75.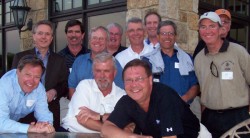 A group of Phi Delts gathers for this summer's annual golf outing in Chicago.
Several members of Phi Delta Theta sponsored a hole at the Windy City Golf Outing in memory of Janice Woolf Hazen, ED'75. Seated are Bob Seeds, BN'73; Randy Hammett, JO'74; and Dave Zentgraf, BN'74; standing are Tom Goodrich, BN'75; Mike Moriarty, BN'74; Bill Esser, LA'74; Roger Davison, BN'74; Greg Wilde, BN'70; Bob Zeller, ED'74; Mark Bruss, BN'75; Bob Hazen, BN'74; and Mark Kline, FA'73.
Prizes were donated by the University and Chicago-area entertainment venues as well as by Dan Litchfield, Litchfield Cavo LLP; Ken Krucks, LA'75; Zach Johnson, BN'98; and Clark Maxwell, AS'94.
In addition to alumni from the Chicago area, Milwaukee and Des Moines, golfers included Bob Chase, JO'70, of Lincolnton, N.C.; Mark Kline, FA'73, of Santa Fe, N.M.; and Michael Moriarty, '71, of Spring, Texas.
In addition to having a great time, participants raised an estimated $3,000 for Drake's Chicago Scholarship Fund.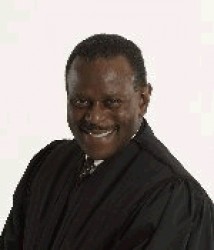 Odell McGhee II
Graduate elected president of Iowa
Judges Association
Polk County District Judge Odell
McGhee II, LW'77, recently was elected president
of the statewide Iowa Judges Association. The vote, which was unanimous, took
place at the association's annual meeting on June 18.
Judge McGhee is the first African
American to be elected president of the organization, which represents the
social and governmental interests of Iowa judges on the state and national
level.
McGhee was appointed to the bench
in 2002 in the Fifth Judicial District, which includes Des Moines. He is well
known in the community and throughout the state as a jurist interested in human
rights, First Amendment protections and children rights.
He told the Iowa Judges Association
that he hopes his year as president will be "inspirational, unique and
revitalizing." He noted that the challenges to the judiciary in
today's world are great, adding that judges should never lose sight of their
deepest values.
"In short," he said,
"the critical ingredient is supplied by what is in the judge's heart —
real justice and peace." He added that judges should have empathy for the
disadvantaged and be willing to "investigate alternatives to traditional
resolutions to people problems and take chances considering each citizen
individually.
"This is not judicial
activism," he concluded, "but a genuine need, if our courts are
to not only punish, but to help people mend their lives and become
productive."
McGhee was born in Liberty, Miss.,
on July 11, 1952. When he was 13, his parents moved the family to Chicago,
where he completed junior and senior high school. He attended the University of
Illinois, then transferred to Cornell College in Mount Vernon, Iowa, where he
received a bachelor's degree in 1974. He enrolled at Drake Law School and
received his Juris Doctor degree in 1977.
He later served on the Law
School's Board of Counselors and was an adjunct faculty member at the Law
School and Des Moines Area Community College. He is married to Jacqueline
Easley, an executive at Mercy Hospitals and a member of the Drake Board of
Trustees. They have two children: Carey and Ty.
After graduating from Drake Law
School, McGhee worked as a program planner with the Iowa Commission on the
Aging, where he developed a statewide legal delivery system for older Iowans.
He then joined the Iowa Department of Environmental Quality as an
administrative hearing officer.
In 1982, he went to work for the
Polk County Attorney's Office, where he supervised the drug and vice docket for
five years and was the lead attorney for the prosecution of felonies in the
General Crime Bureau. He was then assigned to the Major Offense Bureau, where
he dealt primarily with white-collar crimes and vehicular homicide. He also
spent five years in the Civil Division, developing an expertise in defending
discrimination suits filed against Polk County.