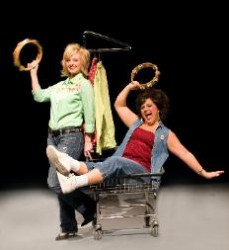 Alexis Van Vleet and Gina Gedler star as Katie and Lana Mae in "Honky Tonk Laundry."
MEDIA CONTACTS: Jerry Jacobson at e2g@q.com or 515-238-4343;

Lisa Lacher, 515-271-3119, lisa.lacher@drake.edu
"Honky Tonk Laundry," the new country hit musical by Roger Bean, will be performed at Drake University Saturday, June 21, under the sponsorship of Friends of Drake Arts.
Both performances will start at 7:30 p.m. in the Hall of Performing Arts, Harmon Fine Arts Center, 25th Street and University Avenue. Tickets are $15 for the general public and $7 for those with a Drake ID. They are available at the Drake Fine Arts Box Office at 515-271-3841.
"Honky Tonk Laundry" features Alexis Van Vleet of Urbandale as Katie Lane and Gina Gedler of Norwalk as Lana Mae Hopkins, both of whom are up to their elbows in soapsuds and cheatin' boyfriends at the Wishy Washy Washateria.
When these two country angels join forces, they turn their good ol' laundromat into a boot-scootin'-boogie honky-tonk, guaranteeing every customer a good, clean time.
"Honky Tonk Laundry" features music of The Dixie Chicks, Terri Clark, Patsy Cline, Amy Dailey, Rebecca Lynn Howard, Loretta Lynn, Martina McBride, Reba McEntire, Dolly Parton, LeAnn Rimes, Pam Tillis and Tammy Wynette.
Van Vleet (Katie Lane) is a sophomore at Drake University, where she is studying vocal performance and appearing in university operas. She wowed Des Moines Playhouse audiences as a featured singer in "Swing!" She also was in playhouse productions of "Footloose" and "Cats" (Bombalurina). She will star as Sandy in the Playhouse's upcoming production of "Grease."
Gedler (Lana Mae Hopkins) is a favorite of Des Moines audiences, having appeared in "Chicago" (Velma), "Gypsy" (Mama Rose), "Into the Woods" (Cinderella), and "Ragtime" (Emma Goldman) at the Des Moines Playhouse. She also has appeared in "Tomfoolery" and "Blood Brothers" at Des Moines' Drama Workshop; and" Urinetown," "Batboy" and "A New Brain" at StageWest. Gedler is an insurance specialist at Mercy Surgical Affiliates.
"Honky Tonk Laundry" is produced by Entertainment to Go, which produces quality shows designed for various venues, including conventions, business conferences, meetings, reunions and theme parties.
The show was a huge hit at Indian Hills Community College, said Jennifer Boyenga, theatre director at the college.
"The performers were outstanding and our audience loved them," Boyenga added. "We had tons of positive comments from our regular patrons. A hilarious production — we'd recommend them!"
Friends of Drake Arts, which is sponsoring the show at Drake, is a member organization that supports the rich tradition of the visual and performing arts at the University. The group arranges special events offering audiences exceptional perspectives on the arts and promotes community outreach through partnerships with local high schools, retirement communities and the Drake Neighborhood. For more information, visit the Friends Web site.