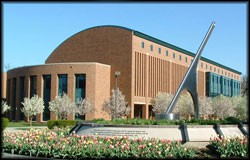 MEDIA CONTACT: Lisa Lacher, 515-271-3119,
lisa.lacher@drake.edu
Drake University Law School has been selected as a 2008 recipient of the American Bar Association's Gambrell Professionalism Award.
In announcing the annual award, the ABA Center for Professional Responsibility recognized Drake Law School for its implementation of "an innovative and integrated approach to teaching legal ethics and professionalism."
"We do offer an outstanding program in professionalism and ethical and professional development, and it's just terrific to be recognized for it by the ABA Center for Professional Responsibility," said Drake Law School Dean Benjamin B. Ullem. "This is something to celebrate."
The ABA noted that in addition to the required upper level professional responsibility course, Drake Law School has developed an extensive professionalism curriculum that spans the entire first year and includes:

A multi-faceted orientation program that introduces students to legal ethics and professionalism;
A concentration on ethical and professional considerations in the required legal writing course;
A Trial Practicum, which provides a week-long immersion in an actual jury trial;
Supreme Court Week, a celebration of the law school's relationship with the bench and bar that reinforces the importance of professionalism and ethics and recognizes academic excellence, leadership and service.
"The goal of Drake's program of instruction," the ABA concluded, "is to provide students with a focused, integrated, comprehensive curriculum of ethics and professionalism, which pervades the law school experience.
"This effort is established in the first year and enhanced by the variety of offerings in the upper-class curriculum. Moreover, the Law School seeks to distinguish itself as an institution that provides a unique emphasis on skills and theory saturated with a focus on how ethics and professionalism concerns inform and direct lawyering behavior."
Law School to receive award at ABA annual meeting
The Gambrell Professionalism Awards honor projects contributing to
the understanding of professionalism among lawyers. Drake Law School
will receive its award, which includes a check for $3,500, at the ABA's
annual meeting, scheduled for Aug. 7-12 in New York City. Law schools,
bar associations, law firms and other law-related organizations are
eligible for the awards. Drake is the only law school honored this
year.
The Gambrell Awards were established in 1991 and are named for E.
Smythe Gambrell, ABA and American Bar Foundation president from
1955-56. Gambrell founded the Legal Aid Society in Atlanta, where he
practiced law from 1922 until his death in 1986.


Faculty contributions play key role in national recognition
"There are many whose contributions deserve recognition for this
honor," Dean Ullem said. He noted that Associate Dean Russell Lovell
designed and implemented both the Trial Practicum and the adaptation
and integration of the Character Counts! program to the first-year
orientation on professionalism. Ullem also praised professors Maura
Strassberg, Ellen Yee, Melissa Weresh and Lisa Penland for teaching the
professionalism components of the first-year orientation.
The Law School, Ullem added, is grateful for the contributions of
outside partners such as Chief Judge Arthur Gamble and Polk County
Attorney John Sarcone, as well as Scott Raecker of the Institute for
Character Development and Michael Josephson of the Josephson Institute
of Ethics, both proponents of the Character Counts! program.
Judges, attorneys support award for Drake



Drake Law School's application for the Gambrell Award received enthusiastic support from numerous judges and attorneys.
U.S. District Court Judge Mark W. Bennett of the Northern District
of Iowa noted that the writing curriculum for first-year students
utilizes "Ethical and Professional Considerations in Legal Writing," a
recent book by Drake law professor Melissa Weresh. This "creative and
outstanding text," he wrote, "has helped produce law graduates who
understand that ethics and professionalism are not just separate
subjects in law school, but the very core and the true heart and soul
of our legal profession."



U.S. Court of Appeals Judge William Jay Riley of the Eighth Circuit
also supported Drake's application, citing his experience as a
designated district judge in a federal disability discrimination case
tried at Drake's Legal Clinic as part of the Trial Practicum for
first-year students.
Judge Riley described the Trial Practicum as "a remarkable
experience for law students, dramatically increasing students'
knowledge of the law's real world, and bridging the gap between legal
education and the actual practice of law."