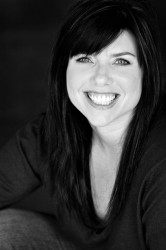 Karla Kash
Drake Assistant Professor of Musical Theatre Karla Kash is choreographing the musical "Open Heart" as part of the summer Way Off Broadway series at the Stephen Sondheim Center in Fairfield, Iowa.
The show, written by and starring three-time Golden Globe nominated actor Robby Benson, opened Friday, June 20, and has additional performances June 26-29. Evening performances start at 7:30 p.m. and matinees start at 2 p.m.
"Open Heart," which also features Karla DeVito and Stan Brown from the original New York cast, is an eclectic musical that tells the story of one man's outrageously funny and poignant wild ride to rediscover the priorities in his life.
Kash is an actor, choreographer and director currently residing in central Iowa. She has performed, directed, choreographed and fight choreographed in New York City, San Diego, Boston, Ohio, New Hampshire and Iowa.
She is a member of Actor's Equity Association and The Society of American Fight Directors. Kash received her master of fine arts degree in acting from Brandeis University and a bachelor of fine arts degree in acting from Wright State University. Read more about Kash online.
The show features Benson's musical compositions and songwriting in the libretto and score of the production.
Benson is best known for starring in films such as "Ice Castles," "Ode to Billy Joe," "The Chosen," "Tribute," "Harry and Son" and "One on One." He also starred as the voice of the beast in Disney's "Beauty and the Beast."
He is noted for directing feature films and TV shows including "Friends," "Ellen," "Zelda," "The Rothschilds" and "The Pirates of Penzance."
To purchase tickets, contact the box office at 641-472-2787 or visit http://www.iowatix.com/. The production contains adult language and situations.