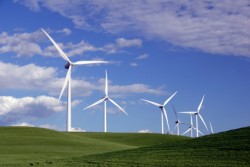 Eight law students and three attorneys have been taking one of the nation's first courses on wind law at Drake University Law School this spring.
Neil Hamilton, the Dwight D. Opperman professor of law and director of Drake's Agricultural Law Center, teaches the seminar-style course, titled Legal Issues in Wind Development.
Although wind-generated electricity is increasing rapidly throughout the country, a seminar on wind energy is especially appropriate for Iowa.
The state ranks first in the nation in the percentage of wind-generated electricity on its grid, and Iowa is fourth in total generation capacity, according to the American Wind Energy Association.
Iowa had its first 300 turbines planted in 1999 and now has more than 1,100 turbines with the potential to generate electricity from wind to serve up to 389,000 average Midwest homes. In addition, six major wind-generation manufacturers — Acciona, Siemens, Clipper, Hendricks, Trinity Structural Towers and TPI Composites — have located or plan to come to Iowa.
"Development of wind energy is an increasingly important economic and political issue for Iowa and the nation," said Hamilton, an advocate for locally and community-owned wind development. "The potential for wind energy and the essential need for legal advice means law students and lawyers can benefit from studying this emerging topic."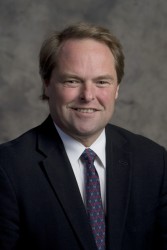 Neil Hamilton
Hamilton said he knows of only two other law schools in the country offering courses in wind law — the University of Texas at Austin and the University of Oregon.
Hamilton's two-credit course provides a thorough introduction to a broad range of legal and regulatory issues involved in developing wind energy projects. It also explores related issues concerning carbon offsets and state policies to promote renewable energy.
Guest speakers at the class have included John Norris, chairman of the Iowa Utilities Board, and Tom Wind, an electrical engineer and owner of Wind Utility Consulting PC. Students in the class are attending the American Wind Energy Association meeting in Des Moines.
Topics addressed in the course include:
State and federal policies to promote wind energy, including renewable energy standards, Federal and state production credits and other incentives
State and federal programs to finance renewable energy and wind projects
The sale of "green tags" or renewable energy credits in emerging carbon markets
Wind energy easements and ownership of wind rights
Negotiation of agreements for interconnection, transmission and sale of energy
Regulatory issues involving zoning and operating wind towers and liability issues
Alternatives for structuring and financing, such as community wind projects
Professor Hamilton is one the nation's leading authorities on the role of law in shaping agriculture and the food system. He has lectured throughout the United States and in 20 other countries. He has taught agricultural law for 27 years and has written more than two dozen law review articles and several books on food and agricultural law issues. Each year he is a visiting professor at the University of Nantes in France and at the agricultural law graduate program at the University of Arkansas.
Hamilton is former president of the American Agricultural Law Association and former co-chair of the U.S. Department of Agriculture Small Farms Advisory Committee. He now chairs the advisory board for the Leopold Center for Sustainable Agriculture at Iowa State University and is the board chair of the Iowa Natural Heritage Foundation.
He has been a consultant for many international organizations, such as the United Nations Development Program in China, the Royal Botanical Garden at Kew, the World Bank and the International Potato Research Center in Lima, Peru.