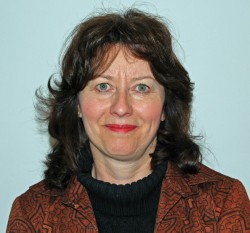 Psychologist Sheila Pottebaum will discuss helping students overcome posttraumatic stress disorder to succeed in school.
MEDIA CONTACT: Tory Olson, 515-271-1834, tory.olson@drake.edu

Middle school teachers and their students will benefit from
the James McMahon Institute's summer workshop offered this week by Drake University's
School of Education. The workshop aims to give teachers new strategies and
information to help students become successful and independent.
The workshop, titled "Hidden Curriculum: The Keys of
Understanding Issues that Affect Student Success," will run from June
18-20 at Drake's Meredith Hall, 2805 University Ave.
Each year, the workshop benefits a different group of
teachers. This year's program is designed for middle school teachers and will
address the needs of a broad range of students with social-emotional challenges
that impact learning.
The seminar will feature speakers who will discuss
challenges that teachers and students face and offer solutions to help improve
learning.
The four keynote speakers are:
Sheila
Pottebaum, psychologist at Child Psychiatry Associates PC in West Des
Moines —

"Helping
Students with Posttraumatic Stress Disorder Succeed in School"
Laura
Riffel, expert in the area of positive behavior supports —
"Motivating Students to Succeed"
Sarah
Grady, associate professor of pharmacy practice at Drake —
"Medications 101: What Teachers Need to Know"
Rhonda
Chittenden, executive director of FutureNet, The Iowa Network for
Adolescent Pregnancy Prevention — "Demystifying Adolescent Female
Sexuality: From Object to Subject"
Read more about the featured speakers online.
Attend the summer workshop
Participants are asked to contribute a $30 fee for the
workshop, but are eligible for scholarships that are provided to cover the
costs of workshop sessions, materials and room and board. Space is limited to
40 participants, but there is a waiting list available for the workshop.
The workshop setting also will allow for networking
opportunities. In addition, each participant will receive a flash drive
containing presenters' handouts and supplemental materials. Vendors also will
display educational products.
The workshop has been approved for one hour of graduate
credit for $90.
For more information or to register, contact Kathy Fejes at
515-271-2168 or Kathy.fejes@drake.edu or Kathryn Tripp at 51-271-4600 or Kathryn.tripp@drake.edu.
Workshop made possible by funding from Drake alumna
The James McMahon Institute summer workshop is made
possible through an endowed gift of $214,000 left from the estate of Drake alumna Noreen
Barkema, in memory of her late brother. Barkema received her bachelor's degree in education from Drake in 1959 and a graduate degree in 1963.
Since it began in 1993, the workshop has brought
approximately 40 teachers from across Iowa together each summer to learn the
newest strategies for teaching students with intellectual disabilities.