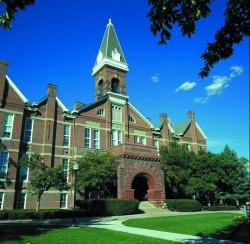 Drake University remains open and orientation sessions for
new students will take place as scheduled on Sunday, June 15, and Monday, June
16. Visitors can expect sunny skies and temperatures in the 70s and 80s.

In addition, more than 1,000 athletes are competing in the
NCAA Outdoor Track and Field Championships at Drake Stadium today through
Saturday, June 14. A campus map is available online.
Driving directions
Interstates 35/80 and 235 are the best routes for reaching
campus. Driving directions are available online. The 31st Street exit on I-235 is closed south of the interstate, but is open northbound to the Drake campus.
For travelers using I-80, please note that the Iowa
Department of Transportation has closed the east- and westbound
lanes of I-80 in eastern Iowa. The roadway will
remain closed for approximately two to three days.
Flood waters are expected to overtop the east- and westbound lanes of
I-80 at milepost 266 in Cedar County, just west of the Iowa 38 interchange
(exit 267).


The planned detours for through traffic are as follows:
Westbound Interstate 80 traffic:
Take U.S. Highway 61 in the Quad Cities
Go north on U.S. 61 to U.S. 20/Dubuque
Take U.S. 20 west to Interstate Highway 35
Take I-35 south to I-80 in Des Moines
Eastbound Interstate 80 traffic:
Take I-35 in Des Moines
Continue north on I-35 to U.S. 20
Take U.S. 20 east to U.S. 61 at Dubuque
Travel south on U.S. 61 to I-80 at the Quad Cities
Directions from Des Moines International Airport
Visitors coming to campus from the Des Moines International
Airport should take an alternate route because Fleur Drive is closed near
downtown. The route recommended here is the safest and least likely to change
due to rising water.
Driving directions from the airport and a detailed map of this route are available online.

Additional travel information
Those with reservations at hotels and motels in the Des
Moines area are advised to confirm reservations with those properties and check
with them on local conditions.
Due to the changing situation, watch carefully for road
signs and follow them. For information on driving in or near flooded areas,
visit the Iowa Department of Transportation Web site.
For the latest travel information, visit the Iowa Department
of Transportation Web site.