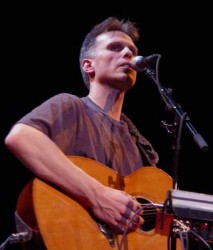 Peter Mayer
MEDIA CONTACT: Lisa Lacher, 515-271-3119, lisa.lacher@drake.edu
Minnesota folk singer and songwriter Peter Mayer will perform a concert at 7 p.m. Sunday, June 22, to benefit a Habitat for Humanity project involving Drake University and First Christian Church.
The concert will start at 7 p.m. at the church, 25th Street and University Avenue. Tickets, which are $10, can be purchased at the door or online.
Proceeds from the concert will benefit a Habitat for Humanity house to be built in October.
The house will be constructed by volunteers from various faith communities and Drake University students, faculty and staff. It will be erected on Drake's vacant lot at University Avenue and 26th Street, and then moved to a permanent location near the Drake Neighborhood.
Mayer writes songs about interconnectedness and the human journey, exploring the beauty and the mystery of the world. His music has been described as whimsical, humorous and profound.
"He is unafraid of complicated topics and always strives to look beyond the easy sentiment," according to Dale Connelly of Minnesota Public Radio. "Peter does nothing less than address the very nature of our existence. . . . Trust me, most songwriters can't pull this off. Peter Mayer does."
Mayer began playing the guitar and writing songs when he was in high school. He studied theology and music in college, and then spent two years in seminary.
After deciding that the priesthood wasn't for him, he took a part-time job as a church music director for eight years, while performing at clubs and colleges, and writing and recording his music. In 1995, he quit his job and started touring full-time.
Mayer has gained a dedicated, word-of-mouth following, selling out shows from Minnesota to Texas, New England to California. He has recorded eight CDs, including "Bountiful" and "Million Year Mind." Read more about Mayer on his Web site.
For more information about Mayer's Des Moines concert, call First Christian Church at 515-255-2181.