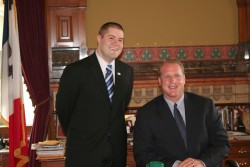 Law student Sean Bagniewski chats with Gov. Chet Culver after the bill signing.
Five Drake University law students appear to have a bright future as lobbyists and legislators, thanks to the experience they gained in lobbying for children's rights in the Iowa Legislature this session.
The students drafted five bills, recruited sponsors, attended subcommittee meetings, secured constituent support and lobbied legislators as they shepherded the measures through the legislature.
Three of the five bills passed unanimously in both the House and Senate. Iowa Gov. Chet Culver signed two of those bills into law at a private signing ceremony on Tuesday. He is expected to sign the third bill at a later date.
"This is an incredible success — having three bills pass unanimously in both houses of the legislature," said Jerry Foxhoven, director of the Middleton Center for Children's Rights at Drake Law School. "I know this has been a tremendous learning experience for these students, and their work will have a positive impact on Iowa youth for years to come."
The bills signed by Gov. Culver expand children's rights in the following ways:
House File 2338 requires that a court determine if a child's failure to appear during a Child in Need of Assistance proceeding is due to a failure to notify the child, if appropriate. This bill is designed to encourage the attendance of children at proceedings that may determine their future, when appropriate.
Senate File 2340 requires the Iowa Department of Human Services or its designee to obtain a certified birth certificate for a child subject to an out-of-home placement by the time the child is 18 and facilitate the procurement of a federal Social Security card for that child. Many foster children don't have certified birth certificates or Social Security cards, which makes it difficult for them to enroll in school and obtain jobs.
The third bill, Senate File 2364, was vetoed by Culver. This bill would have allowed minors who are at least 16, residents of Iowa and not in the care of the state, to petition for emancipation from their parents.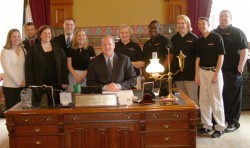 Law students and members of Elevate surround Gov. Culver.
The need for these bills was identified by the Middleton Center in cooperation with Elevate, an organization devoted to helping foster children.
Then five students in Drake's Legal Practice Center, supervised by faculty members Julie Smith and Larry Pope, took up the cause on behalf of the Middleton Center and its clients. In addition to the help they received from faculty, the students gained support from United Way of Central Iowa, which provided an advocacy grant of $10,000.
The law students — Sean Bagniewski, Kendra Boatright, Amber Juffer, Karin McDougal and Justin Wolff — crowded around Gov. Culver's desk for the bill signing. They were joined by several members of Elevate as well as Drake faculty, leaders of United Way and two legislators.
Sen. Keith Kreiman and Rep. Kurt Swaim, both Democrats from Bloomfield, Iowa, praised the students and the legislation they worked so hard to get enacted.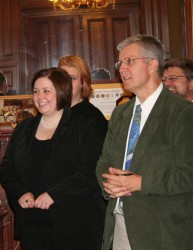 Law student Kendra Boatright and Sen. Keith Kreiman at the signing ceremony.
"Whenever there's legislation proposed by the Middleton Center, we know it makes a lot of
sense and will help a lot of kids," Kreiman said.
Roshonique Bouyer, a 16-year-old foster child from Des Moines and a member of Elevate, agreed. "It's a blessing that these bills passed," she said.
The law students welcomed the opportunity to gain real-world experience in politics.
"Lobbying for the Middleton Center for Children's Rights has been a once-in-a-lifetime experience," said Bagniewski, president of the Drake Student Bar Association. "It gave each student an opportunity to write a piece of legislation and then to work elbow-to-elbow with leaders in the state legislature to try to pass it.
"This provided a fascinating view of our government at work and gave us all a deeper respect for the law-making process," he added. "Most importantly, we were able to meet with the youth who will benefit from our legislation. The appreciation they expressed made all those extra hours in the committee rooms worthwhile."
Boatright, another law student, said she was grateful to have the opportunity to be a lobbyist, not just shadow a lobbyist.
"This experience has provided me with a better education than I could ever hope to receive sitting in a classroom," she added. "Plus, it was nice to be able to show people that lobbyists can do positive work."