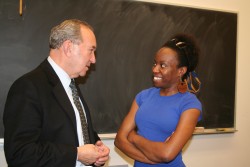 Justice Richard Goldstone visits Drake law student Theresa Hassler after his lecture.
Drake Law School welcomed a diverse group of prominent speakers to campus this spring. The Law School aims to bring lawyers, scholars and professionals to speak to and interact with students to prepare outstanding lawyers who will promote justice, serve as leaders in their communities and the legal profession and respond to the call of public service.
Featured distinguished speakers this spring included:
Justice Richard J. Goldstone, visiting professor of law and the William Hughes Mulligan professor of international law at Fordham University School of Law. Goldstone played a crucial role in the South Africa transition from Apartheid to freedom.
Goldstone's lecture, "The South African Constitution: The Recognition of Social and Economic Rights," was part of the Constitutional Law Center's Constitutional Law Distinguished Speaker series.
Former Register of Copyrights Ralph Oman, the Pravel, Hewitt, Kimball and Kreiger professorial lecturer in intellectual property and patent law at George Washington University Law School. Oman came to Drake as the first speaker of the Intellectual Property Law Center's Distinguished Lecture in Copyright law. His lecture was titled "The Role of the U.S. Copyright Office."
The Federalist Society also sponsored a panel discussion on "America's Treatment of Terror Detainees," which featured:
Gordon Allen

, visiting professor of law at Drake University, former legal director for the Iowa affiliate of the ACLU and former deputy attorney general of Iowa

Angela Campbell

, visiting professor of law at Drake and a former assistant federal public defender who represented four Guantanamo Bay detainees

Michael Lewis

, assistant professor of law at Ohio Northern University and a graduate of the Navy's "Top Gun" school who specializes in terrorism law
The annual Constitutional Law Symposium focused on "The Forgotten Constitutional Amendments." The featured speakers were:
Daniel Farber

, the Sho Sato professor of law, director of environmental law, University of California, Berkeley School of Law

Randy E. Barnett

, the Carmack Waterhouse professor of legal theory, Georgetown University Law Center

Kurt Lash

, the W. Joseph Ford fellow at Loyola Law School, Los Angeles

Michael Kent Curtis

, the Judge Doland L. Smith professor in constitutional and public law, Wake Forest University School of Law

Rebecca Zietlow

, the Charles W. Fornoff professor of law and values, University of Toledo College of Law

David Bogen

, professor emeritus of law, University of Maryland School of Law