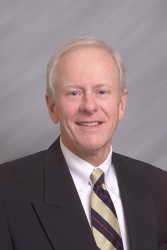 Benjamin B. Ullem
Benjamin B. Ullem, a senior partner at the Des Moines law firm of Whitfield & Eddy PLC, has been appointed to a one-year term as dean of Drake University Law School.
Ullem, a 1966 Drake graduate who earned his law degree from Drake in 1969, will begin his new position in early June. He will succeed longtime Law School Dean David S. Walker, who will take a yearlong sabbatical and then return to the faculty. While on sabbatical, Walker plans to teach at the University of Nantes in France, travel, read, write and speak French, read books and "leave room for serendipity," he said.
In announcing the appointment, Drake Provost Ron Troyer said, "Ben Ullem has long been an ardent supporter of the Drake Law School and he has ably served the University as a volunteer for many years.
"I am delighted that such a highly respected member of the legal community has agreed to serve as dean while our nationwide search continues for a permanent Law School leader. He brings the passion and skills needed at this moment in our history."
Ullem has a long and distinguished record of service to Drake. He has been a member of the University's governing board since 1992 and chaired the board from 2000-2003. He will take a leave of absence from the board while serving as dean.
In addition, Ullem has been chair of the Drake Law School Board of Counselors and president of the Drake National Alumni Association Board. He chaired Drake's National Commission II, which helped plan the University's successful $130 million fundraising campaign. He also led the Law School's $30 million fundraising effort in that campaign.
He has received Drake's Alumni Loyalty Award and Distinguished Service Award — the highest honor given to Drake alumni.
"Being the dean offers me an opportunity to serve my Law School and enhance its leadership in legal education," Ullem said. "Drake Law School is such a tremendous contributor to the Iowa and national legal scene that I want to become a part of it."
Ullem has been with Whitfield & Eddy since 1969. The firm, which was founded in 1928, now has 53 attorneys and was honored last year for providing 500 hours of pro bono work to the Polk County Bar Association's Volunteer Lawyers Project.
A certified mediator, Ullem is active in the Polk County Bar Association, Iowa Bar Association and American Bar Association. He is a member of the Surety Claims Institute, National Bond Claims Association and the Fidelity and Surety Law Committee of the ABA. His practice includes business law, construction law, corporate law, fidelity and surety law, insurance, real estate and mergers and acquisitions.
In addition to his professional activities, Ullem has been involved in community service as past president of the Des Moines Jaycees and a former member of the board of directors of the Greater Des Moines Partnership. He also was a member of the inaugural class of the Greater Des Moines Leadership Institute.