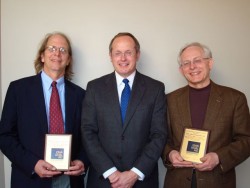 John Allen, Scott Hartsook and Russell Lovell at the awards luncheon.
Russell Lovell, associate dean and professor of law at Drake University, recently was honored by Iowa Legal Aid with the Excellence in Service Award for his work "to promote justice and ensure that society becomes more hospitable to low-income
people."
The Iowa Legal Aid Board of Directors presented the award to Lovell at an awards luncheon. The honor recognized Lovell for his contributions as a former legal aid lawyer and, in particular, for his nearly 15 years of volunteer service as co-director of the
Poverty Law Internship Program (PLIP) funded by the Iowa Supreme Court.
"Over the years PLIP has enabled 75 Drake law students to respond to the call of public service as they developed their lawyering skills. I have been pleased that, in a small way, I have been able to continue to fulfill my commitment to equal justice through my supervision of the Drake PLIP summer interns." Lovell said.
Internship program enables interns to serve legal needs of the poor statewide
Since 1995, Lovell has served, with Professor John Allen of the University of Iowa College of Law, as co-director of PLIP. Over the years of this collaboration, approximately 150 Drake and Iowa law students have had their summer PLIP internships funded by Iowa Supreme Court Interest on Lawyer Trust Accounts (IOLTA) grants.
The PLIP program for this summer is funded by a $51,500 IOLTA grant, sufficient to support five Drake and five Iowa interns.
The interns work in legal aid offices across the state (Des Moines, Cedar Rapids, Mason City, Dubuque, Ottumwa, Iowa City, Council Bluffs, Sioux City, Nevada, Muscatine and Davenport).
The past four years Lovell has also secured $360,000 in Drake University Federal Work Study funds which, when combined with the IOLTA grant funds, has supported an additional three to six summer poverty law interns (and additional public service internships in a variety of other settings).
Professors Lovell and Allen apply for and secure the grant funding that pays the students' salaries. They also recruit and place students across the state, teach the intensive orientation program, monitor the summer internship experience, resolve problems and prepare grant reports.
Students who have completed their first and second years of Law School are eligible for the PLIP internship. Interns handle fact investigation, client interviews and administrative agency evidentiary hearings.
In addition, third-year interns represent clients in court, under the supervision of onsite legal aid attorneys. Iowa Legal Aid is a nonprofit organization that provides free civil legal assistance to low-income Iowans who have nowhere else to turn.
Lovell: longtime commitment to public service
Lovell served as a staff attorney and then director of litigation for the Indianapolis Legal Services Organization and law director for the Indiana Center on Law & Poverty at the outset of his professional career from 1971-76. He specialized in major civil rights and impact cases in areas of law ranging from consumer protection to school desegregation, from prisoners' rights to landlord-tenant law reform, from employment discrimination to welfare reform.
"My years as a legal services attorney in Indianapolis were very rewarding and have greatly influenced my entire career," Lovell said. "They confirmed my belief that the skills we have as attorneys provide us with a special opportunity, and responsibility, to work for justice and equality."
Lovell joined the Drake Law School faculty in 1976, where he teaches constitutional and employment discrimination litigation, civil rights and litigation generally, including the path breaking First-year Trial Practicum.
His commitment to public service has continued throughout his years in academia — he has been the recipient of five NAACP awards while at Drake, including the prestigious Foot Soldier in the Sand Award at the 2005 National NAACP Convention and Drake University's Madelyn Levitt Award for Distinguished Community Service. Lovell has served as director of the Law School's Public Service Program since 1995.