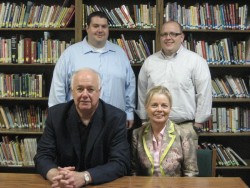 Jason Yates, Dustin Miller and Barry and Michele Griswell talk about the development project at Crow Creek Reservation.
Instead of joining a law firm after graduation, two Drake University law students are teaming up with the head of one of the nation's largest insurance companies. Their goal is to spur economic development on the Crow Creek Reservation in the nation's poorest county — Buffalo County, S.D.
Dustin Miller and Jason Yates are forming the Harvest Initiative nonprofit organization with support from Principal Financial Group Chairman and CEO J. Barry Griswell and his wife, Michele. The Griswells have made a significant gift to cover the project's start up costs for two years.
"Michele and I are honored to be part of the work on Crow Creek Reservation," Griswell said. "We have made several trips there and have made some wonderful friends. The work Dustin and Jason are undertaking, to provide economic development opportunities, represents a long-term commitment on all our parts to lessen the affects of poverty there."
The Griswells, Miller and Yates began their involvement with the Crow Creek Sioux Tribe through their church, Ashworth Road Baptist Church in West Des Moines, Iowa.
As they discussed their interest in getting more involved with the reservation, Miller and Yates proposed and developed the initiative, which emphasizes "more than charity — by offering a hand up as opposed to a hand out."
"Our mission," Miller said, "is to create and facilitate economic activity on the Crow Creek Reservation by assisting tribal members, individually or cooperatively, through access to capital and enhanced financial literacy."
Yates said the Harvest Initiative also will include teaching financial literacy and job skills to high school students. In addition, the initiative will explore the possibility of establishing a cooperatively owned grocery store that would provide access to quality food at affordable prices.
After graduating from law school with Agricultural Law Certificates in May, Miller, 29, and Yates, 30, will take the bar exam. Then in late summer, they and their families will move to Pierre, S.D.
Miller, a native of Lacona, Iowa, will relocate with his wife, Sara. He has experience with internships with the U.S. Department of Agriculture Rural Development and an economic development think tank, International Food Poverty Research Institute, in Washington, D.C. He spent the summer after his first year of law school in Kisumu, Kenya, with Opportunity International, assisting a microfinance institution. He helped establish the institution through internal development and oversaw the implementation of financial instruments developed at the grassroots level.
Yates, a native of Kirksville, Mo., will move with his wife, Betsy, and their two children, Hallie, 3, and Conrad, 1. His experience includes internships with USDA Rural Development, the Iowa Attorney General's Consumer Protection Division and the County Attorney's Office in Dallas County. He also worked on a project through Drake's Agricultural Law Center to research cooperatively owned grocery stores in rural Iowa.