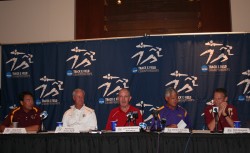 Coaches Greg Kraft, Pat Henry, John McDonnell, Dennis Shaver and Bob Braman.
The NCAA held a pre-meet news conference at Drake University on Tuesday, June 10, featuring the following selected head coaches and student-athletes discussing the NCAA Outdoor Track and Field Championship:

Coach Greg Kraft – Arizona State
Coach Pat Henry – Texas A&M
Coach John McDonnell – Arkansas
Coach Dennis Shaver – LSU
Coach Bob Braman – Florida State
Student Leo Manzano – Texas
Student Jacquelyn Johnson – Arizona State
Student Kelly Baptiste – LSU
Student Rayon Taylor – Florida State
Student Porscha Lucas – Texas A&M
A transcript of the news conference follows:
Greg Kraft: Well thanks for having us here. We appreciate it. I think when we talk about our teams, on the men's side, we start with just a couple hits within the sprints, and I think that's a risk you take with the sprints. But we had to scratch our 4×4, which impacted our 4×1. And I think it's pretty well recognized that indoors we were able to win because, really, we just had a perfect meet. So we're just looking to maybe be in the top eight, top 10 with that group.
On the women's side, we have Jackie Johnson here, who was really the key recruit for us five years ago when we brought her in. We had a tremendous senior class that really hasn't lost a meet in the last few years, and their worst meet in the last three years has been a forth and a third in the NCAA meet and Jackie's a big part of that as is Jessica Presley.
So we're excited to be here. Obviously the national championship has a lot of tremendous athletes and tremendous coaches, and we're excited to see what the outcome will be Saturday night, so thanks for having us.
Pat Henry: We qualified a good group of people on both the men's and women's side. We have some people with some experience, but we have a young group also. We have all four relays in. We're spread out. We have jumpers in here. We have some throwers. A distance runner. A steeple-chaser. We have some sprinters, and we have some hurdlers. We're working on trying to balance out our program. We have seventeen on both sides — men and women, so we have some balance as far as that's concerned on both sides.
And like Greg was saying, one of our sprinters is here today — Porscha Lucas, who is a sophomore. She's done a great job for us. She's been very productive this season, and she's a young sprinter.
Teamwise, this is a new area for Texas A&M. We feel fortunate that we've been relatively healthy all season. We had a good conference meet, and we had a good regional meet. This is a different level meet, and we can see what we can do at this kind of challenge. But again, we appreciate the opportunity to come and talk to you.
John McDonnell: We have 12 athletes, and we have a few that have a possibility of competing for an individual championship, which of course, is always nice. But as far as a total team, I don't think we have the power to get up there in the top three or four, and we're just looking for a top ten finish. And to finish off what I consider a pretty good year. We won our conference title with a pretty young team, but we also have some experience. But we'll just have to line it up there and see what happens.
Dennis Shaver: I'd just like to echo what the other coaches said, it's my first time to Drake, and the hospitality has been wonderful. We're looking forward to the meet to start and have been for a long time now.
I'll address the men's squad first. We've got a real balanced team, much like Texas A&M. We've got some people in all the different event areas, and we're certainly looking forward to getting started. Both our relays made it through the championship, and you know, there are several key events for all of us, but a lot of head to head battles are going to be going on in the team championship. And much like last year, I think, probably that is what is going to dictate the victor at the end of the day on Saturday.
On our women's squad, we've got, once again, some pretty good balance, but we're a little more sprint/hurdle oriented. Kelly Baptiste is here. She's a senior who was running for us last year at this meet with a slight back problem and did the best she could. She's healthy this year, and we're looking forward to giving her an opportunity to compete here at Drake.
But overall, we're looking forward to things getting started. We're very healthy on both sides, so it should be a great run for our men and women's teams.
Bob Braman: I think what Dennis said was really key. This is my first time here to Drake and I had not been to the Drake Relays. This is an unbelievable facility, an unbelievable venue. You've got the rubberized mondo strips going all the way up to the practice level up on top and four or five starting lanes up there where the athletes can really get ready to compete.
So if we get a little break on the weather, you might see some really, really great performances on this kind of track, this kind of facility with these athletes you have here. And particularly during an Olympic year, you've got so many great athletes, not the least of which is sitting right here. They have a lot more business to do after they leave the NCAA championships.
Our men's team is in a little bit of a different situation for us, because we're probably the underdog depending on whose service you read and whose prediction you ask, so that's going to be kind of a challenge for us. It's going to be fun for us to just get out there and compete and if we are somebody's favorite, we're co-favorite. So I think there's really no advantage there that we're going to go at it. We learned a lesson indoors. As Arizona State, we had a perfect meet. And that can happen again.
And one team that's not sitting up here is the University of Texas, which could win four individual championships. And if you get fifty points in this meet, you are in a shot to win this thing. So we don't want to forget about anybody.
I think that, as coaches, we're all just trying to get our kids to do their best. I think we're an older team. On one hand, we've got seniors that need to lead us. We've got six athletes that have been national champions before — four individuals and two that were on the relays, so I hope that that experience and those folks that have been on the top of the podium will really, really feel that hunger to get up there again.
On the ladies' side, which can be overlooked a lot, we were sixth in the indoor championship and two individual national champions and an individual runner-up, and we feel like we've got those same three back and we feel like we've got some other folks who could score. I think we are probably a top ten team. I don't think we can contend with the sixty-something points you're going to see from the ladies' champion. But we're real proud of the job the ladies have done that they've become a contending team as well.


Question-and-Answer Session
Q: Coach Brayman, is Walter [Dix] all set to go?

Brayman: A hundred percent. A hundred percent. He's doing really well, and it's really, really fortunate. I mean, it couldn't have gone that way, it could have gone the other way. I held my breath at Georgia Tech on May 16 because he didn't have a 200 qualifier, and he looked great that day — that was the real test. And since then, he's been the same old Walter and really actually been working out really hard. Kind of catching up, if you will. But he had done it two years ago when he pulled at Texas and came back and finished second to Xavier Carter in the 100 and won the 200, so he's been down that road before. He's the right guy to have to overcome adversity if you had to pick one.
Q: Coach Shaver, talk about that 100 meter showdown that looks like it's coming on the men's side and the talent that you guys have got there.

Shaver: Well, I'm real pleased, obviously, and proud of the progress that both Richard Thompson and Trindon Holiday have made for us throughout their careers — Richard being a senior and Trindon in his third year.
But when I look at the 100 meters, I still go back, and when you have the defending champion here, and I told our guys for a month: Don't worry he's not running right now. He'll be ready when it counts, because we've seen it, and he's a tremendous athlete who knows how to run the rounds conservatively and be ready to go in the finals.
So it should be a very exciting 100 meters. There are other guys in there too — certainly Clemson and several other people that are going to make that a really exciting race if everybody makes it through the rounds and gets up to the final.
Q: Pat, talk about the Bellman Program since you've been there and how much of a challenge it was and how far you've come.

Henry: Well, we've made some steps in the right direction, I think. A&M has always had some great individual talents forever. Not many schools have had as many great athletes. Teamwise, they haven't been in the team competition for a long time, so that was our emphasis. Our emphasis is trying to build a program, a team — trying to develop some consistency in the program. We've made some good steps in that direction. We're not there yet, but we're getting a little bit better each year.
Q: Well there's one question that needs to be asked: Coach McDonnell, how do you feel going into this one? (McDonnell will retire after the NCAA Championships)

McDonnell: I wish I had a better team. Hell, I feel uh… The hardest thing was just to announce it to my team members coming down. You know, when you recruit kids, they expect to be with you for four years, so that was kind of difficult, but having the last meet… it's just another meet to me. I've been at it a long time — 36 years.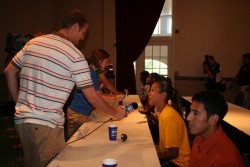 Journalists interview student-athletes.
Questions for Student-Athletes
Q: How's your training coming along?

Leo Manzano: It's all
great. You know, we've had a long season, and it's pretty much been
leading up to this point. So my teammates and I are just really excited
to be here, and we're hoping to come up and put on a great performance.
Q: How do you think the weather's going to affect the meet?

Manzano: I'm hoping its
like today. Nice. Not too hot. Sunny. If it's like it's been like the
past couple of days, it might end up affecting the meet a lot, but I'm
not hoping the weather gets the worst of us.
Q: What do you think of the Drake track?

Manzano: Oh man, it's just
amazing! I mean, you know, it's blue. Other than that, the facility's
awesome. I want to say it's one of the best if not one of the better
facilities I've ran on. I actually had an opportunity to come and
compete here last year, so I'm kind of familiar with the track, and I'm
hoping I can use that to my advantage. So, like I said, I think all of
my teammates are really excited to be here. So hopefully, we'll come
out and run a great race, and hopefully go back home with victory.
Q: What do you think of the facilities at Drake?

Kelly Baptiste: Well, like
my coach said, I've never been here before, but I've heard about it,
and I think it's wonderful. The warm-up facility is great for athletes,
because it gets you warmed-up before you go out on the track.
Q: How does it compare to other facilities you've participated on?

Baptiste: Overall, I think
the track and field area is wonderful, and it's nice to have an indoor
facility so you can get warmed up or cooled off before you go out onto
the track.