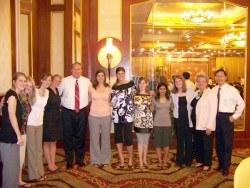 Gov. Chet Culver, fifth from left, gathers with fellow Drake alumni in Shijiazhuang.
MEDIA CONTACT: Lisa Lacher, 515-271-3119, lisa.lacher@drake.edu
Seven Drake alumni teaching English in China this year were invited to attend the welcoming dinner for Iowa Gov. Chet Culver, a 1994 graduate of Drake, in Shijiazhuang during his recent economic development trip to Hebei Province in China.
When Gov. Culver learned from Gov. Hu Chunhua of Hebei that some Drake students were also invited to the welcome dinner, he told the Hebei Governor that he is also a Drake graduate and he was eager to meet his fellow alums.
The 2007 graduates having dinner with Culver were:

Emily Daugherty, School of Education
Kelsey Holmes, College of Business and Public Administration
Sherly Jacob, College of Arts and Sciences
Lindsey Johnson, School of Education
Clare McCormick, School of Education
Stephanie Sonderegger, College of Arts and Sciences
Jenna Wilcox, College of Arts and Sciences
Culver, a former teacher who earned his master's degree in education from Drake, chatted with the graduates for about 10 minutes before the dinner began. They were happy to share with him their experiences in Hebei.
Also joining in the discussion was Martha Willits, president and CEO of the Greater Des Moines Partnership. She said she hoped the alums would return to Iowa when they have completed Drake's Chinese Cultural Exchange Program.
This year, 20 Drake alumni have been participating in the program, which continues to grow in popularity. In August, 25 Drake alumni and one graduate of the University of Iowa will travel to China to teach there for the 2008-09 academic year. Most of those alums — 21 to be exact — will be teaching in Hebei Province.
"We're pleased to have a 30 percent increase in participation for this next year," said Kirk Martin, director of the program. "It shows there's growing interest in living and working in China. It also demonstrates that we're providing a program that graduates are finding valuable. The dinner our alumni enjoyed with Gov. Culver is just one indication of that."