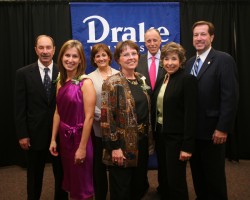 Left to right: Richard Worcester, Julie R. Koch, Linda Anderson Worcester, Linda Robbins Coleman, Lawrence K. Fish, Madeleine Maxwell and Drake President David Maxwell. Not pictured: Zach Johnson.
More than 120 Drake employees, alumni and friends of the
University helped celebrate the accomplishments of six outstanding alumni at
the recent annual Alumni Awards Banquet.
A video slideshow of the award winners
and the event is available online.

The alumni award winners are:
Zach Johnson, BN'98, professional golfer and the 2007
Masters champion; Young Alumni Achievement Award
Julie R. Koch, AS'99, business strategist, Mayo
Clinic; Young Alumni Loyalty Award
Linda Robbins Coleman, FA'76, composer and
consultant; Alumni Achievement Award
Linda Anderson Worcester, ED'73, former teacher, and
Richard Worcester, LA'71, GR'74, president, SW Anderson Co.; Alumni
Loyalty Award
Lawrence
K. Fish, JO'66, chairman, Citizens Financial Group; Distinguished Service
Award