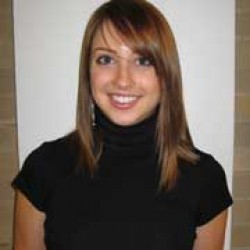 Justine Blanchard is interning this summer at Cookie magazine in New York City.
MEDIA CONTACT: Lisa Lacher, 515-202-1773, lisa.lacher@drake.edu
Drake University student Justine Blanchard of Grimes, Iowa, has received a national Mark of Excellence Award from the Society of Professional Journalists. She won the award for her nonfiction article "A Shot in the Dark," which was published in Drake Magazine.
"I was thrilled when I found out that I won the Mark of Excellence Award," said Blanchard, who recently completed her junior year as a magazine major. "I had worked really hard on this article, and I was happy with the end result, so getting recognized for my efforts was just a bonus. Even so, I was very excited to get national recognition."
"Justine has considerable talent as a writer and editor and this is a great award for her to win," said Drake journalism professor Angela Renkoski, faculty adviser for Drake Magazine.
Blanchard plans to accept the award Sept. 5 at the association's luncheon at the 2008 Society of Professional Journalists Convention and National Journalism Conference in Atlanta.
Blanchard's award-winning article focuses on diabulimia, an eating disorder in which Type I diabetics will skip insulin shots to lose weight. Blanchard interviewed medical professionals and two girls with the disorder for the article. "It was an interesting article to write because very few people in the medical community have knowledge that this disorder even exists," she said.
Blanchard has an internship for the summer in New York City at Cookie magazine as part of the American Society of Magazine Editors internship program. Cookie is a parenting magazine that also includes information about fashion and entertainment.