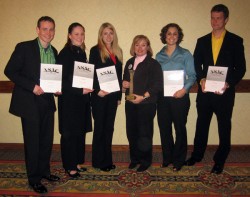 From left to right recent grads: Greg Miller, Ashley Householder, Katherine Liljegren, Dorothy Pisarski, Lauren Kowalsky and Matt Meszaros. Not pictured: Grace Wittenberg.
Students, professor honored at national ad
competition
While 34 Drake University advertising seniors participated
and finished second in the American Advertising Federation's National Student
Advertising Competition in Omaha, Neb., their Advertising Professor Dorothy
Pisarski was honored with a distinguished educator award.
"The fact that the students were awarded second place
and I was named the outstanding educator shows the outstanding quality of our
advertising program," said Pisarski. "Drake's School of Journalism
and Mass Communication has both a dedicated faculty and a dedicated student
body."
Advertising seniors take second place in national
tournament
Students in Drake's Advertising Capstone competed for
regional honors in the National Student Advertising Competition (NSAC) in
Omaha, Neb. this spring.
"The
NSAC was a great way to gain experience before setting out into the world of
advertising," said senior account executive for the AOL campaign Lauren
Kowalsky of Whitefish Bay, Wisc. "As a capstone class we were able to
simulate an advertising agency and work together to create a competitive
campaign for AOL. Not only did I learn a lot in the process, but our second
place finish really made the hard work worth it."
Drake students presented their $25 million campaign for
America Online's Instant Messenger (AOL AIM). The team prepared a Web site
redesign and multimedia advertising summarized in a 32-page pitch book and a
20-minute live presentation followed by a 10-minute question and answer
session.
Awarded second place, the students were defeated by one
point by the Webster University team. At the awards presentation, the judges
made mention of just how close the ranking was between the top two schools.
"As part of the pitch team, we practiced until we were
on stage," said Grace Wittenberg of Saint Paul, Minn. "Once we made
the pitch, I knew that we had placed somewhere in the top three. We had nailed
it. One of the judges even told us it was the only presentation for which he
did not have suggestions. Placing second made it all worth it."
Drake has competed at this tournament for four consecutive
years. The AAF competition aims to provide undergraduate advertising students
with realistic problems that can be solved through team effort, knowledge and
creativity — ultimately to demonstrate the effectiveness of advertising
education.
"The experience in Omaha was fantastic," said
Piotr Jakubowski, a senior from Jakarta, Indonesia. "We were given the
opportunity to bond with each other and realize that it's about doing our best
work."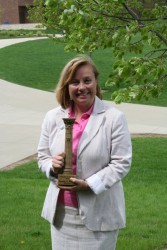 Dorothy Pisarski poses with her Distinguished Advertising Educator of the Year Award.
Prof. Pisarski named Educator of the Year
In addition to the Drake team taking second in the national
competition, Dorothy Pisarski, assistant professor of advertising, was awarded
the Distinguished Advertising Educator of the Year Award for the 9thDistrict of the American Advertising Federation.
"I am honored to receive the outstanding educator
award," Pisarski said. "I advocate for my students because I have a
genuine concern for their best educational experience possible. The ad world
changes daily nowadays; I have to be on the forefront of those changes so my
students can reach their potential."
The district, which includes 27 schools in Iowa, Kansas,
Missouri and Nebraska, annually recognizes an advertising professor who has
been a consistent mentor to students, supports the success of the advertising
industry in a personal way through research, teaching and advocacy and has
worked to advance the mission of AAF.
Pisarski earned her bachelor's degree in marketing and
management from Siena College in Albany N.Y., and her master's degree from New
York University's Stern School of Business. Prior to coming to Drake in 2004,
she taught in Pennsylvania. Her professional experience includes many years
with Philip Morris USA in New York City.
More about the American Advertising Federation
The American Advertising Federation in Washington, D.C.,
representing 50,000 professionals, protects and promotes the well-being of
advertising through a unique, nationally coordinated grassroots network of
advertisers, agencies, media companies, local advertising clubs and college
chapters.
More information is available online.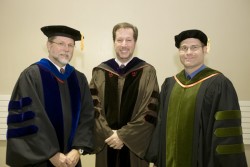 Jim Dodd, President David Maxwell and Geoffrey Wall pose for a photo at Drake's Undergraduate Commencement Ceremony.
Professors Dodd and Wall receive Levitt Awards
Drake University's top awards for faculty and staff recently
were presented to James Dodd, the Aliber
distinguished professor of accounting; and Geoffrey
Wall, associate professor of pharmacy practice.
Dodd received the 2008 Madelyn
Levitt Teacher of the Year award, which recognizes the Drake faculty member who
best demonstrates excellence in teaching, inspirational leadership and
intellectual rigor, at Drake's Undergraduate Commencement Ceremony on Sunday,
May 18.
Later that day at the graduate
commencement ceremony, Wall received the 2008 Madelyn Levitt Mentor Award,
which recognizes faculty and staff who exhibit outstanding commitment to
student success in and out of the classroom, as well as integrity in personal
relationships.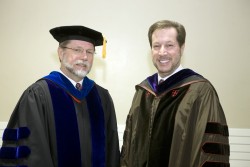 Jim Dodd and President David Maxwell during the recent graduation ceremony.
Dodd: The Levitt Teacher of the Year
Students say Dodd's enthusiasm for accounting is "contagious," and he takes a genuine interest in helping students to find careers that fit their skill sets and objectives, both professionally and personally.
An alumnus commented, "The balance sheets of many organizations do not include their most important assets — their people. Drake is no exception. Dr. Dodd stands out as a truly exceptional teacher who adds immeasurable value to the educational experience of Drake students."
Dodd, a two-time recipient of the Fulbright Scholar grant, which allowed him to teach in both Norway and Iceland, has excelled in creating a student-centered learning environment in his classes.
Dodd joined Drake in 1992 after earning his Ph.D at the University of Georgia. Dodd worked in corporate manufacturing for 15 years. It was there he found that the most rewarding experiences came from working on small teams challenged to solve problems, develop new international markets, apply the newest technologies and motivate others.
Among his contributions to Drake, Dodd designed an accounting course, which involves students playing a supplemented version of the game "Monopoly." Over a seven-week period, students produce financial statements representing the results of their Monopoly play for each of the seven simulated years. Subtle rule changes each year help to create transactions that lead to an in-depth understanding of the accounting cycle and the resultant financials.
"The most rewarding part of teaching is when that one student discovers something, when the 'light bulb' is turned on," said Dodd. "You can see it on the face and hear it in the tone of their voice; the student says 'Ah ha' or 'Oh yeah.'"
"The teacher's challenge," Dodd added, "is to cultivate the 'Ah ha' with little expectation of actually seeing or hearing it."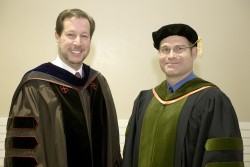 President David Maxwell congratulates Levitt Mentor of the Year Award winner Geoffrey Wall.
Wall: The Levitt Mentor of the Year
Wall, who joined Drake's College of Pharmacy and Health Sciences in 1999, has shown dedication to teaching, scholarship and the future professional development of his students. He works with students in the capstone advance practice experience rotations, specifically with internal medicine and critical care.
"Around 50 percent of our students request Geoff's rotations as their first choice, and each year every slot he gives me for students is filled," said Denise Soltis, director of pharmacy experiential programs. "Every year I have someone in my office in tears because they didn't get Dr. Wall's rotation."
In addition to mentoring students in rotation, he teaches clinical pharmacokinetics and therapeutics.
In a number of letters of recommendation, colleagues, students and alumni cite Wall's enthusiasm, dedication and encouragement in motivating them to look beyond surface opportunities and set higher goals.
"Webster's Dictionary defines mentor as a 'trusted counselor or guide; tutor; coach.' These terms are embodied in Dr. Wall," said Carrie Koenigsfeld, associate professor of pharmacy practice. "He believes in what he does and knows that the future of pharmacy lies with the students. Ultimately, students respect him."
Wall has been recognized by the College of Pharmacy as the Hartig Distinguished Professor, Mentor of the Year and twice as Preceptor of the Year.
"On a more personal level, I try to establish a relationship of trust, collegiality with students, to see me more as a colleague and less as 'THE PROFESSOR,'" said Wall. "I feel this establishes a thorough communication link, whereby students can approach me with ease and trust.
"Among the most rewarding times of my career," Wall added, "have been when former students now pharmacists practicing at a high level, cite me as an influence in their career choice."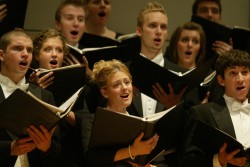 Drake Choir documents recent European tour in blog
The Drake Choir, the University's select touring choral
ensemble, traveled to Italy and Austria from May 22-June 3, performing concerts
in Rome, Assisi, Florence, Salzburg, Melk and Vienna.
The Choir performed a program including:
"Agnus Dei," by Samuel Barber




"Os justi" by Austrian composer Anton Bruckner



"O Clap Your Hands" by Carl Staplin, Drake
professor emeritus of music

"Sicut cervus" by Giovanni Pierluigi da
Palestrina


"Missa St. Joannis de Deo" by Franz Josef Haydn
Aimee Beckmann-Collier, Drake director of choral studies,
conducts the choir, which gave concerts the following cathedrals:
St. Peter's Basilica in Rome
The Basilica di San Francesco in Assisi
Chiesa Santa Maria dei Ricci in Florence
Domkirche and Christuskirche in Salzburg
Melk Abbey near Vienna
St. Stephen's Cathedral in Vienna
Between performances, the 52 students in the choir enjoyed
sightseeing, including a visit to the Mauthausen Concentration Camp. Their
daily journal entries about the tour are posted, with accompanying photos, on
the choir blog at www.drakechoir.blogspot.com.
Choir members raised funds for the trip through personal and
family contributions, delivering singing valentines and performing an annual
benefit concert. Support also came from Drake Student Senate, Drake alumnus and
benefactor Jim Collier, as well as other Drake alumni and friends. The total
cost of the trip, which is not paid for by any university funds, is $195,000.
The Drake Choir tours throughout the United States annually
and internationally every four years. The ensemble has sung in Carnegie Hall,
for the American Choral Directors Association North Central Division conference
and with the Des Moines Symphony.
For more information, call 515-271-2841.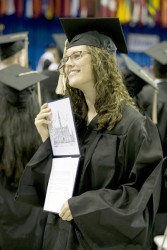 Drake celebrates graduates in the class of 2008

More than 1,500 undergraduate and graduate students
celebrated their commencement rites of passage at Drake University's graduation
ceremonies last Sunday.
Seniors were honored at the Undergraduate Commencement
Ceremony, which featured a keynote address by Drake President David Maxwell.
Read President Maxwell's graduation remarks online. A
photo gallery of graduates and the celebration also is available online. Video streaming of all Drake commencement ceremonies is available online.
In
addition, Dan Sadowski, recipient of the University's Oreon E. Scott Award for
the most outstanding senior, gave a commencement address. He advised his fellow
seniors to, "pick your passion and embrace it, and do it to the best of
your abilities."
Later that afternoon, graduate students collected their
diplomas at Drake's Commencement Ceremony for Graduate and Doctoral Degree Recipients.
View a photo gallery of graduates and the ceremony online.
There are many inspirational stories among these graduates
in the class of 2008. Here are a few of them.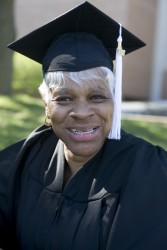 Genea McMillion
Aspiring teacher earns diploma after 16-year Drake
career
After facing difficulties including illness and financial
obstacles, Marr Genea McMillion celebrated 16 years of work to achieve her
lifelong dream of earning a bachelor's degree on Sunday.
McMillion, 58, began her education at Drake at the age of
42, and was one of approximately 750 students who graduated at Drake's
Undergraduate Commencement Ceremony.
McMillion of Des Moines came to Drake in 1992 after earning
an associate degree in liberal arts from Des Moines Area Community College. She
took three classes each semester at Drake in the mornings and afternoons. Then,
she worked as a custodian at Roosevelt High School from 3 p.m. to midnight.
Previously, she worked as a bus driver for the Des Moines
Public School District. It was on the bus, listening to kids, where she
discovered a collective lack of knowledge about history that inspired her to
major in history in hopes of becoming a history teacher.
McMillion is the first of her mother's children to finish
college. After graduating with a bachelor's degree in history, she plans to
take her education courses at Drake and then begin student teaching in the
Teacher Quality Program.
The program, funded by a federal grant, aims to increase
diversity and the number of teachers in urban areas. The funding provides four
years of certification coursework and McMillion will receive tuition, books, a
laptop computer and child care. The program will lead to a teaching position
for McMillion in the Des Moines Public Schools.
Until she gets her own classroom, McMillion plans to
continue to run her day care where she and her husband, Herbert, are
responsible for eight children, including their 5-year old son, Mykel.
Read more about McMillion's journey in a recent Des Moines
Register article online and a feature by Radio Iowa on its Web site.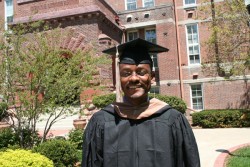 Paul Muvembi
Grad student conquers financial obstacles to earn Drake
diplomas
Working his way through college, Zimbabwe native Paul
Muvembi borrowed all his books and built a computer out of parts he salvaged
from his classmates' castoffs.
Muvembi, 24, who graduated from Drake with a bachelor's
degree in actuarial science and finance in 2006, recently collected his second Drake
diploma. He received his master's degree in financial management at
Drake's Commencement Ceremony for Graduate Degree Recipients in May.
Muvembi's greatest challenge during his Drake career was
getting tuition paid every semester.
He came to the United States in 2003 and began working as a
dish washer, production line worker and waiter to save money for college. He
even traveled to work in the United Kingdom during the summer of 2003.
When he started at Drake in 2003, a normal day for Muvembi
would start at 2 a.m., when he would borrow books from other students and study
while they were sleeping. He would return the books at 8 a.m. when his
classmates woke up, and then go to class and work.
Since he started at Drake, Muvembi has worked 20-hour weeks
during the academic year and 40-hour weeks during school breaks.
While supporting himself through school, Muvembi also has
been providing his sister, Sekai, with funds to attend college at the
University of Cape Town in South Africa.
From working at the Student Accounts Office on Drake's
campus to Principal Bank to studying, Muvembi says he was still able to find
time for a little fun. His hobby: salsa dancing.
After graduation, he hopes to find a full-time actuarial job
in Des Moines.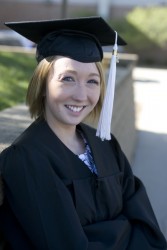 Sarah Moritz
Senior takes break from working on Hollywood film to
collect diploma
Even before Sarah Moritz of Clive walked the stage at
graduation, she already landed a job working on the new movie
"Peacock," starring Ellen Page, Cillian Murphy, Susan Sarandon, Bill
Pullman and Josh Lucas.
Moritz, 22, took her only day off from her production
assistant position to participate in Drake's recent Undergraduate Commencement
Ceremony.
When she received a call from Cornfield Productions, Moritz
never dreamed she'd be shooting a movie. She thought the company was looking
for someone to work on wedding videos, but during the interview she asked,
"What exactly are we doing?"
The answer: a position working on a Hollywood movie, came as
a shock to Moritz. There was no doubt Cornfield was looking for someone with
her expertise — a double major in electronic media and sociology, which made
her a perfect fit for the job.
Moritz started the job three weeks ago, juggling the last
week of class and finals week with work, sometimes writing one paragraph per
day after work to complete papers. She said professors were flexible by
allowing her to send in her work and papers via e-mail.
For the next five weeks, Moritz will use her Iowa roots to
work with extras, mostly Iowa natives, on the movie set in small Iowa towns
including Odebolt, Osceola, Lorimer and Greenfield.
"Peacock" is a psychological thriller in which
Cillian Murphy plays a character with a split male/female personality. Murphy
pretends to be both himself and his wife in the movie…and someone gets
murdered.
After her gig with "Peacock," Moritz plans to
return to life as a DJ on Des Moines Radio Group's Lazer 103.3, where she has
worked nights while going to school.
Moritz recently graduated with approximately 750 seniors.
She received a bachelor's degree in journalism and mass communication, as well
as a bachelor's degree in sociology.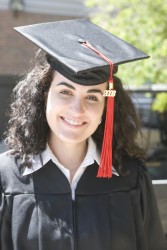 Maria Cosma
Romania native manages life as full-time student and
business owner
When asked to describe her biggest obstacle during her Drake
career, Maria Cosma's answer wasn't juggling a full course load and owning a
business. For Cosma, 22, the culture shock from moving from Romania to Des
Moines in 2004 was her greatest challenge, and managing a business and school
was comparatively easy.
Cosma and her boyfriend, Oz Kapic of Croatia, 26, dreamed of
bringing what they missed the most about home — the European coffee culture —
to Des Moines.
They opened the Black Cat Café at 3701 Ingersoll Ave. in
October 2007.
Cosma said prioritizing was the only way to make everything
work, and sometimes she even had to choose between going to class or attending
a City Council meetings to get permits and licenses approved for the business.
The Des Moines and Drake communities have been very
welcoming, Cosma said. She praises all of the people who have been supportive
and have helped make the Black Cat Café possible.
She found time to be a global ambassador with Drake's Center
for Global Citizenship and was active in the Verge Advertising Club at Drake.
Her background in her majors — international relations and creative
advertising with a minor in graphic design — were assets to her when
developing the business plan and operating the café.
Cosma joined fellow graduated at Drake's
Undergraduate Commencement Ceremony. She collected a bachelor's degree in
international relations and a bachelor's degree in journalism and mass
communication.
After graduation, Cosma plans to continue to own and run the
café. She also hopes to go the summer school at Studio Art Centers
International in Florence, Italy, and then attend Chicago Portfolio School to
gain credentials for a career as a creative director.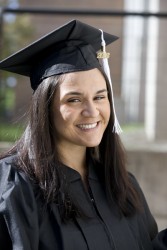 Becca Coronado
Drake graduate hopes to draw from her experiences to help
others
Becca Coronado, 28, graduated on Sunday with a bachelor's
degree in sociology. Coronado is a single mother and she and her 18-month old
son Desemes have been staying at the Hope Family Women's Facility.
Coronado has overcome challenges including homelessness and
financial obstacles to earn her undergraduate degree from Drake.
After graduating, she hopes to go on to Law School and
become an advocate for people who face challenges similar to those she has seen
on her journey.
Read more about Coronado's story in a recent Des Moines
Register article online.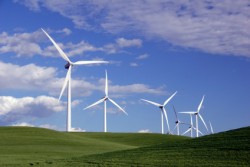 Law prof teaches Iowa's first wind law course
Eight law students and three attorneys recently took one
of the nation's first courses on wind law at Drake University Law School this
spring.
Neil Hamilton, the Dwight D. Opperman professor of law and
director of Drake's Agricultural Law Center, teaches the seminar-style course,
titled Legal Issues in Wind Development.
Although wind-generated electricity is increasing rapidly
throughout the country, a seminar on wind energy is especially appropriate for
Iowa.
The state ranks first in the nation in the percentage of
wind-generated electricity on its grid, and Iowa is fourth in total generation
capacity, according to the American Wind Energy Association.
Iowa had its first 300 turbines planted in 1999 and now has
more than 1,100 turbines with the potential to generate electricity from wind
to serve up to 389,000 average Midwest homes. In addition, six major
wind-generation manufacturers — Acciona, Siemens, Clipper, Hendricks, Trinity
Structural Towers and TPI Composites — have located or plan to come to Iowa.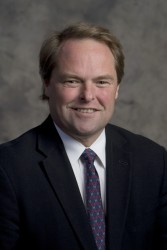 Neil Hamilton
"Development of wind energy is an increasingly important economic and political issue for Iowa and the nation," said Hamilton, an advocate for locally and community-owned wind development. "The potential for wind energy and the essential need for legal advice means law students and lawyers can benefit from studying this emerging topic."
Hamilton said he knows of only two other law schools in the country offering courses in wind law — the University of Texas at Austin and the University of Oregon.
Hamilton's two-credit course provides a thorough introduction to a broad range of legal and regulatory issues involved in developing wind energy projects. It also explores related issues concerning carbon offsets and state policies to promote renewable energy.
Guest speakers at the class have included John Norris, chairman of the Iowa Utilities Board, and Tom Wind, an electrical engineer and owner of Wind Utility Consulting PC.
Topics addressed in the course include:
State and federal policies to promote wind energy, including renewable energy standards, Federal and state production credits and other incentives

State and federal programs to finance renewable energy and wind projects
The sale of "green tags" or renewable energy credits in emerging carbon markets

Wind energy easements and ownership of wind rights

Negotiation of agreements for interconnection, transmission and sale of energy

Regulatory issues involving zoning and operating wind towers and liability issues
Alternatives for structuring and financing, such as community wind projects
Professor Hamilton is one the nation's leading authorities on the role of law in shaping agriculture and the food system. He has lectured throughout the United States and in 20 other countries. He has taught agricultural law for 27 years and has written more than two dozen law review articles and several books on food and agricultural law issues. Each year he is a visiting professor at the University of Nantes in France and at the agricultural law graduate program at the University of Arkansas.
Hamilton is former president of the American Agricultural Law Association and former co-chair of the U.S. Department of Agriculture Small Farms Advisory Committee. He now chairs the advisory board for the Leopold Center for Sustainable Agriculture at Iowa State University and is the board chair of the Iowa Natural Heritage Foundation. He has been a consultant for many international organizations, such as the United Nations Development Program in China, the Royal Botanical Garden at Kew, the World Bank and the International Potato Research Center in Lima, Peru.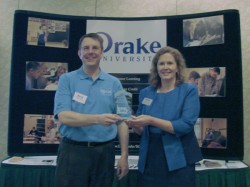 Jean Cross and Chuck Sengstock celebrate the Iowa Distance Learning Association's award for Drake's innovative online Gifted and Talented Endorsement program.
Drake online endorsement program wins national award
Drake's innovative online Gifted and Talented Endorsement
program for educators teaching kindergarten through 12th grade
recently won a national award from the Iowa Distance Learning Association.
The award was presented to Jean Cross, online instructional
designer, and Chuck Sengstock, director of Extension Education, during the
association's annual conference in Cedar Rapids.
"This program would not be successful without
many individuals and departments within the Drake community,
including Sally Beisser, who developed the initial syllabi for the courses;
Peggy Steinbronn and Deanna Koch, who provide invaluable assistance; and Jay
Boomershine and the Drake Support Center team, which assists our students and
instructors when they have questions," Cross said during the ceremony.
Drake's School of Education launched the online program
during the Spring 2007 semester, along with an online version of the two core
courses required for the Middle School Endorsement.
Each course is designed to offer students a convenient
interactive experience with the same high quality as Drake's traditional
courses. Along with digital videos and online chats, the courses incorporate
group projects using wikis, blogs and even teleconferences. The projects are
application-oriented and the instructors are some of the top experts in their
fields.
"I was worried about the online format, as I am much
more of a face-to-face type of person," said student Kyra Wilxoc-Conley,
"but I found the class interesting, balanced between theory and practical
application, and very easy to manage in the online format."
More than 150 students have registered for the Gifted and
Talented online courses since the program started. Drake also has introduced an
online version of the literacy course required for a Reading Endorsement in
Iowa, and will soon release an interactive online APA style guide that is
modeled after the online courses.
Iowa Distance Learning Association is a chapter of the
United States Distance Learning Association. Drake University is a member of
the national organization and Janet McMahill, dean of the Drake School of
Education, is one of the founding members of the state chapter.