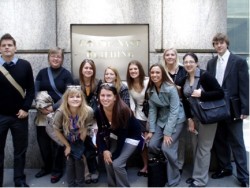 From left (front): Nikki Omundson and Kristina McGuirk; (back): Jake Hukee, Maggie Malam, Katie Seiser, Brittainey Sieren, Kristin Looney, Kayla Porter, Shawnna Stiver, Nicole Cammarata and Adam Knight.
Drake students get first-hand knowledge of magazine
industry in New York
Eleven Drake University magazine majors participated in the
recent annual trip to New York to learn about the magazine industry and get
career advice from alumni and professionals working in the area.
"Going on the trip to New
York City with the magazine program was an invaluable experience," said
Nicole Cammarata of La Grange Park, Ill., a junior magazine journalism and
graphic design major.
The largest group of students ever to go on the trip visited
Esquire, Best Life, Glamour, Good Housekeeping, Ladies' Home Journal, More,
Real Simple, Advertising Age, Prevention and Time Out Kids magazines.
"This trip gets students into
the top New York publishers, so they can see first-hand how things operate in
what is still the magazine capital of the nation," said Patricia Prijatel,
former E.T. Meredith distinguished professor of magazine journalism who began organizing the magazine trip to New York in 2003.
Professionals talked to students about the magazines' and
Web sites' editorial processes, and gave advice for the future of what lies
ahead for the magazine industry.
In addition, students talked with editors working on the Web
sites for Better Homes and Gardens, Fitness, Prevention and Time Out New York.
The discussion focused on editing, writing and designing for the Web.
"I am always so proud of the students," said
Angela Renkoski, assistant professor of journalism and director of E.T.
Meredith Center for Magazine Studies, who organized and chaperoned the visit.
"They really do their homework and ask thoughtful questions that show how
much they understand. And I like thinking of our great student publications,
which we leave behind, being on the desks at all those New York
magazines."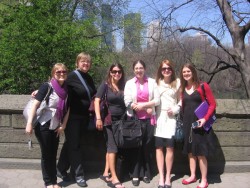 Left to right: Nikki Omundson, Maggie Malam, Kristina McGurik, Nicole Cammarata, Katie Seiser and Kristin Looney in Central Park.
Gaining career advice and opportunities
The trip also provided a wealth of career advice, including tips on getting started and moving up the editorial ladder.
"We were given advice that I will carry with me in my future, and for that, I am eternally grateful," Cammarata said.
The Number one thing many editors were looking for from applicants was fresh story ideas for their content to demonstrate creativity and understanding of their publications. The Number two quality editors look for is a desire to work hard with enthusiasm.
"This is an excellent networking opportunity that gives students access to editors for job contacts and freelance opportunities," said Prijatel. "It also demonstrates to New York editors that Drake has great students who are smart, articulate, informed and highly knowledgeable about magazines. And it helps network with New York alums as well."
At office visits and an informal gathering, students met with Drake alumni, including:
Wendy Naugle, JO'96, Glamour
Kristin Appenbrink, JO'06, Real Simple
Abbey Klaassen, JO'02, Advertising Age
Kelsey Rahn, JO'05, timeout.com/newyork/

Jessica Sokol, JO'05, AS'05, Prevention

Sarah Goldschadt, AS'02, freelance designer

Tanner Stransky, JO'05, Entertainment Weekly
Bridget Nelson, JO'06, Reader's Digest
Jenn Andrlik, JO'03, 4Kidsent.com

Shannon Tharp, JO'05, AS'05, freelancer
A rewarding visit to Esquire magazine
At Esquire, the students met with two top editors, the design director, a research editor and the Web site editor and discussed the magazine's philosophy on journalism, careers and the world.
"This has to be the pinnacle for me," said Renkoski. "It's my favorite magazine, and I talk about it all the time in my classes, so to hear from the people who actually produce it was highly rewarding."
David Curcurito, design director, fielded multiple questions from the graphic design-magazine double majors in the group about type and layout choices he made. He also explained the magazine's two-layer approach so readers can choose to access the information in either a 20-minute or three-hour time frame.
Web Editor Eric Gillen was a student favorite with his earthy, entrepreneurial approach to journalism. He encouraged students to get their thoughts and ideas out into the world on the Internet. Gillen used his own colorful career path, including a road trip to interview the late Hunter S. Thompson, as an example. For success in the workplace, he advised students to be at work before and after the boss, use the phone for interviews and be social.
"We were able to meet with editors and art directors who truly seemed passionate about their work," Cammarata said, "which, as a student wanting to become an editor or art director one day, was very encouraging."