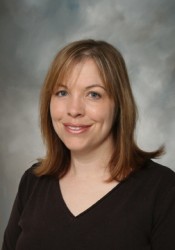 Darcie Vandegrift
MEDIA CONTACT: Lisa Lacher, 515-271-3119, lisa.lacher@drake.edu
Darcie Vandegrift, assistant professor of sociology at Drake University, has been awarded a Fulbright Scholar grant to teach and conduct research in Venezuela during the 2008-09 academic year.
Recipients of Fulbright awards are selected on the basis of academic and professional achievement, as well as demonstrated leadership potential in their fields. Vandegrift, who joined the Drake faculty in 2004, recently received the Outstanding Teacher of the Year Award in Drake's College of Arts and Sciences.
She is one of approximately 800 U.S. faculty and professionals who will travel abroad in 2008-09 through the Fulbright Scholar Program. Established in 1946 under legislation introduced by the late Sen. J. William Fulbright, the program is designed to build mutual understanding between the people of the United States and the rest of the world.
"I'm humbled and honored to be chosen," said Vandegrift, who lives on the west side of Des Moines. "The role of a Fulbright scholar is to be a cultural diplomat. I see the biggest opportunity in the chance to
communicate with Venezuelans I meet that people in the United States are more than their foreign policy and president. I also look forward to hearing the stories of Venezuelans from all walks of life."
Academic exchanges gain importance as political tensions rise
As government-to-government relations between the United States and Venezuela become more strained, academic exchange has gained significance as a means of mutual understanding.
In 1998, Venezuelans elected President Hugo Chavez, a former army officer who led a coup attempt against the government in 1992. Once elected, he proclaimed a "Bolivarian revolution," named after South America's hero of independence Simon Bolivar. More recently, Chavez has announced his intention to create "Socialism for the 21st Century."
Chavez has pursued populist policies aimed at helping the poor and concentrating power in his own hands. Oil revenues fund lavish social programs. Chavez has also sought to strengthen Venezuela's regional influence, and to reduce U.S. influence, through diplomatic and economic overtures towards its neighbors in the hemisphere. The president won a third term in elections in December 2006 and in early 2007 he was granted sweeping powers to rule by decree for the next 18 months. Political polarization has characterized his term in office.
Vandegrift remains undeterred by the political tensions within Venezuela and between Venezuela and the United States.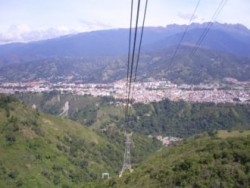 View of Merida from Pico Bolivar, Venezuela's highest summit.
Vandegrift to join faculty at University of the Andes
She is eager to begin teaching classes in globalization and research
methods at the University of the Andes in Mérida, the main center for
education and tourism in western Venezuela. The city of 200,000 has the
world's highest and second longest aerial tramway, which links Mérida
to Pico Bolívar, the country's tallest summit.
Her own research project will involve interviewing adults born
between 1970 and 1990 about how they see their economic futures and
national identity in light of the changes that have occurred in the
global economy and in Venezuela, which has been enriched by its
abundant oil supply, but is rife with political divisions between pro-
and anti-Chavez factions.
"I am interested in seeing how young adults view themselves as
political and economic actors as their nation undergoes a shift in how
it is seen on the world stage," Vandegrift said. "I hope to interview
elite and non-elite adults. I lived in Venezuela for one year as an
exchange student 20 years ago, so I look forward to returning."
Move to be a family affair
When she returns to Venezuela in late August, she will be
accompanied by her husband, Victor Tonelli, and their children, Anson
Tonelli, 11, and Risa Vandegrift, 5.
Her husband plans to continue his computer consulting work, run the
household and take some Spanish courses himself. The family is still
working on school arrangements for the children.
"The kids feel excited about the move on some days and nervous on
others," Vandegrift said. "I'm proud of both of them for being up for
the adventure. We're upping the amount of Spanish spoken at home these
days, that's for sure!
"They are excited about living in the Andes Mountains," she added.
"One of the most attractive aspects of the Fulbright was the
opportunity to take my children to another country to gain another way
of seeing the world."


America's flagship educational exchange program
The Fulbright Program, America's flagship international educational
exchange program, is sponsored by the U.S. Department of State, Bureau
of Educational and Cultural Affairs.
Since its inception, the Fulbright Program has exchanged
approximately 273,500 people — 102,900 Americans who have studied,
taught or researched abroad and 170,600 students, scholars and teachers
from other countries who have engaged in similar activities in the
United States. The program operates in more than 150 countries
worldwide.
More information about the Fulbright Scholar Program, which is
administered by the Council for International Exchange of Scholars, is
available online.