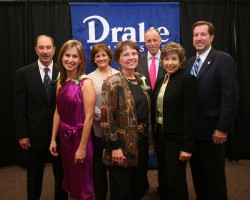 Left to right: Richard Worcester, Julie R. Koch, Linda Anderson Worcester, Linda Robbins Coleman, Lawrence K. Fish, Madeleine Maxwell and Drake President David Maxwell. Not pictured: Zach Johnson.
Approximately 150 Drake employees, alumni and friends of the
University helped celebrate the accomplishments of six outstanding alumni at
the recent Annual Alumni Awards Banquet.
A video slideshow of the award winners
and the event is available online.
Click here to view the full new release.