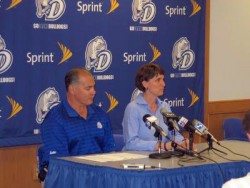 Co-NCAA meet director Mark Kostek and Drake athletic director Sandy Hatfield Clubb previewed the upcoming NCAA Track and Field Championships during news conference.
Drake to host NCAA Outdoor Track and Field Championship
Approximately 1,100 top college athletes from across the
country will converge at Drake Stadium June 11-14 to compete in the 2008 NCAA
Outdoor Track and Field Championship.
It will mark the first time Drake has hosted the NCAA Track and Field
Championships since 1970 when track and field immortal Steve Prefontaine,
competing as a freshman at Oregon, won the first of four straight individual
3-mile/5,000-meter titles.
"We're thrilled to have this championship event back," said Drake
athletic director Sandy Hatfield Clubb. "Hosting a national championship
during an Olympic year magnifies the unique opportunity that Iowans have in
closely watching several athletes who will be competing in the Olympics with
great opportunities to win medals."
The four-day meet is expected to have an economic impact up to $20 million on
the Greater Des Moines area.
Hatfield Clubb said 1,176 athletes, representing approximately 200 schools,
will compete in the meet. Saturday's final session will be televised live on
CBS between 3 p.m. and 5 p.m. Central time, while Friday's activities will be
televised on CSTV.
Drake Stadium underwent a $15 million renovation following the 2005 Drake
Relays. Drake officials are hopeful of packing the 14,457-seat stadium.


With the event less than three weeks away, Drake officials
expressed optimism that their goal of selling out the four-day meet will be
reached.
"We anticipate the meet will be a sellout, but we still have work to
do," said Drake associate athletic director Mark Kostek. "We need to
show the country that the Des Moines community will support this event."
Kostek, who will serve as co-meet director along with Drake Relays director
Brian Brown, said the Drake Ticket Office anticipates handling hundreds of
requests for tickets following the NCAA Regional meets on May 30-31.
"We encourage fans to purchase tickets now as opposed
to waiting until the week of competition," said Kostek.
Costs for all-session passes are $60, while single session tickets are $15 for
the Wednesday and Thursday session and $25 for the Friday and Saturday
sessions. Phone orders are accepted by calling 515-271-3791. Tickets also can
be purchased on the Drake Athletics website at www.godrakebulldogs.com
Outstanding athletes to compete in competition
The top five athletes from regional competition in
Tallahasse, Fla., Fayetteville, Ark., Lincoln, Neb. and Northridge, Calif.,
will advance to the NCAA Championships.
Four of the collegians expected to compete are current world leaders in their
respective events.
Nebraska senior Dusty Jonas owns the best men's high jump mark in the world at
7 feet 8.75 inches set at the Big 12 Outdoor meet last Sunday. Jonas won the
2008 NCAA indoor title.
In his last appearance at Drake Stadium, Jonas stole the show at the 99th
annual Drake Relays by winning the men's invitational high jump at 7-6.5,
outclassing a field which included the seven of the top nine ranked performers
in the United States including Jamie Nieto who was fourth at the 2004 Olympics.
Texas senior Leonel Manzano, who won the mile at the 2008 NCAA Indoor meet and
the 1,500 at the 2005 NCAA outdoor meet, has run the fastest outdoor mile time
in the world this year of 3:56.98 at the Texas Relays.
Texas A&M sophomore Porscha Lewis owns the world's top outdoor time in the
200 at 22.36, while Arizona State senior Jacquelyn Johnson has recorded the
best performance in the world in the heptathlon scoring 6,307 points.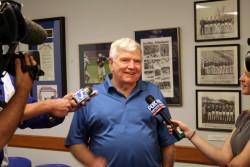 Tom Davis fields questions from the media after announcing his retirement from Drake.
Davis retires as special assistant to
athletic director

Tom Davis announced his retirement as special assistant to the
athletic director at Drake University on May 15.
Davis had served in this position since retiring as head basketball
coach at Drake in April 2007. He was head basketball coach for four years.
"I can't begin to tell you how much fun the last five years have
been and to see where the program is today, relative to five years ago, brings
a smile to my face," said Davis. "I know a lot of people told me it
couldn't be done, but many people at Drake worked hard to prove them wrong. It was
a great experience and I wish Drake the best in the future."
"Tom Davis laid the foundation for a winning legacy at Drake and we
are eternally grateful for his belief in and vision for Drake men's
basketball," said Drake Athletic Director Sandy Hatfield Clubb.
"I'm immensely grateful to Tom Davis for the role he has played at
Drake over the past five years," said Drake President David Maxwell.
"Beyond his obvious accomplishments in rejuvenating the men's basketball
program and laying the foundation for the program's exciting future, Dr. Davis
has been a valued source of wise counsel, a loyal friend, and a passionate
spokesperson for the core values of the University."
During a 32-year coaching career, Davis cemented his place among college
basketball coaching giants by accumulating 598 victories while enjoying 16,
20-game victory seasons with 11 teams advancing to the NCAA Tournament. He was
named the Associated Press National Coach of the year in 1987.
He was named Drake University's 23rd head basketball coach on April 22,
2003. In four short seasons, Davis energized the Bulldog program and led Drake
to a 17-15 record; including winning the Big Four Series, Drake Regency
Challenge and Sun Bowl Tournament. It marked the first winning record at the school
in 20 years.
After Davis announced his retirement from college coaching, his son,
Keno, took over as head basketball coach at Drake. Keno Davis guided the team
to a school-record 28-5 mark this past season, including an appearance in the
NCAA Tournament.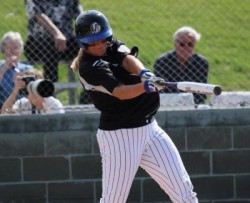 Susan Slycord
Softball team lands three on MVC Scholar-Athlete squad
Senior catcher Susan Slycord (West Des
Moines, Iowa) leads three Drake softball players who were named to the Missouri
Valley Conference Scholar-Athlete Squad.
Slycord, who owns a 3.72 grade-point average in
biology, was Drake's only first team selection.
Playing in 53 games this season, Slycord posted a
.215 batting average while hitting nine home runs.
Senior Marilyn Buss(West Des
Moines, Iowa) and sophomore Kelsey Kahler(Des
Moines, Iowa) earned honorable mention laurels.
Buss, the Bulldogs' first baseman, owns a 3.55 GPA in
secondary education. Buss led the Bulldogs with a .308 batting average, and was
named to the MVC All-Tournament team and was a second team all-MVC selection.
Kahler owns the fourth-highest GPA on the
Scholar-Athlete squad, boasting a 3.85 GPA in elementary education.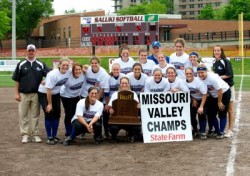 Softball team celebrates Missouri Valley Conference championship.
Drake softball celebrates best season since 2004
Drake had its best season since 2004 by posting a 29-26
record while wining the State Farm Missouri Valley Conference Tournament and
advancing to the NCAA Tournament for the first time since 1994.
In the first game of tournament play on May 16, Drake fell
to a 3-1 victory by DePaul at Sharon J. Drysdale Field on the Northwestern
University campus.
The Bulldogs played again the following day and were
defeated by Western Illinois, ending Drake's action in the NCAA tournament.
A two-out, two-run home run by Michelle Neubauer in the
bottom of the sixth inning broke a 1-1 tie, lifting Western Illinois to the 3-1
decision.
The game-winning hit was the first homer of the season for
Neubauer, who extended the Westerwinds' season at 15-32, while concluding
Drake's campaign at 29-26.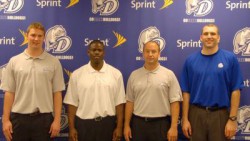 (Left to right), Mike Gibson, Kareem Richardson, head coach Mark Phelps and Justin Ohl.
Phelps names coaching staff at Drake
First-year Drake coach Mark Phelps has announced the
hiring of Mike Gibson, Justin Ohl and Kareem Richardson as assistant coaches on
his basketball staff.
"We are excited to announce the completion of our
men's basketball staff with Justin Ohl, Mike Gibson and Kareem Richardson
joining us as assistant coaches. Each one is talented, passionate about the
game of basketball and committed to teaching and mentoring young men,"
said Phelps, who was named Drake's new head coach April 21.
"They each embrace high standards of excellence and
commitment to integrity as pillars in their lives. Corporately, they bring a
true understanding of the Drake culture, experience in the Missouri Valley
Conference, a demonstrated excellence as college players and students, and
exposure to the college game at the highest level."
Ohl was retained from the Drake coaching staff after
serving the past five seasons as an aide under both head coaches Tom Davis and
Keno Davis. He was named assistant coach in 2004, after serving as a graduate
manager for three years. Ohl was a four-year letterman for the Bulldogs and
received the Drake Coaches Award for placing team before self.
Over the past four seasons as an assistant he was
responsible for Drake's rebounding efforts, scouting of the opposition and
recruiting of future Bulldogs. In addition, he served as the academic liaison
between the basketball program and academic support services department and
director of the Bulldog Basketball Camps.
"Justin understands why Drake University and Drake
basketball are special, having been a student athlete and coach here. He
embodies those qualities we will search for as we recruit young men to Drake. I
am impressed with his knowledge, integrity, passion, commitment to the
student-athlete and natural talent as a teacher, coach and recruiter."
Richardson is no stranger to the MVC, having served as an
assistant coach at Evansville from 2003-07, as well as Indiana State
(1999-2002). He also served as top assistant with the University of Missouri –
Kansas City men's basketball program for the past season. He also has coached
at Indiana State University and the University of Indianapolis.
As a player, Richardson played in an NCAA Tournament as a
freshman at East Carolina University. He then transferred to Evansville in 1995
and quickly established himself as the Purple Aces' top point guard.
"Kareem has extensive experience as a player and a
coach in the Missouri Valley Conference," added Phelps. "He also
demonstrated a true commitment to academic excellence as a student at the
University of Evansville."
"Kareem's values are of the highest level and his
passion and commitment to the total welfare of the student-athlete, combined
with his knowledge of the game of basketball, make him a valuable member of our
coaching staff."
Gibson spent the past two seasons on the staff at Arizona
State, where Phelps had been the associate head coach under Herb Sendek. Gibson
joined Sendek's coaching staff in the summer of 2006 and served as coordinator
of basketball technology and then director of basketball operations.
Prior to joining Arizona State, Gibson was a graduate
assistant on Tom Izzo's staff at Michigan State in 2005-06. He also served as a
student assistant director of operations in the spring of 2006 and worked
directly with the operations director. While in college, he worked at several
basketball camps, including Five-Star, Michigan State, North Carolina State, Louisville,
Northwestern, Dayton and Providence.
"In working with Mike [Gibson] the last two years, I
have been most impressed by his intelligence, organization and work
ethic," said Phelps. "His high academic achievements certainly
exemplify these qualities. He has worked for two elite level programs run by
two elite level head coaches and has experienced being part of a program
operating at the highest level. He will be an invaluable component to the
coaching staff here."