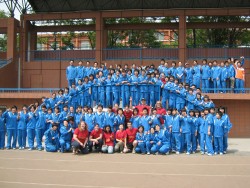 Drake alumni gather with student participants in the first-ever "China Drake Relays."
Bulldog Bashes abound this spring
Alumni in 29 cities worldwide are gathering with fellow
Bulldogs at this year's Bulldog Bashes. From Atlanta to Seattle and beyond,
these fun, informal events enable alumni to connect with fellow grads in their
cities.
Erin Delahanty, JO'07, and nine other alumni gathered in
Handan in Hebei Province, China, with more than 200 students of No. 3 Middle
School for a Relays-themed Bulldog Bash. Students learned about the Drake
Relays and enjoyed silly games such as a slowest bicycle riding contest, an egg
toss and a rice-eating competition.
"We taught the students about street painting
and put out a big roll of paper, where the students left their mark in our own
version of everyone's favorite Relay's tradition," Delahanty reported.
The Drake Office of Alumni and Parent Programs is grateful
to Delahanty and the many alumni who served as Bash organizers this year. Make
plans now to attend a Bulldog Bash near you – or make the circuit! View the
Bash locations, dates and organizers on the Drake alumni Web site.
You can view more photos of Bulldog Bashes and other alumni
and campus events in Drake's online photo galleries.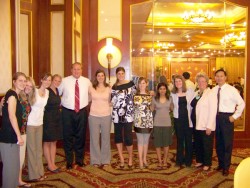 From left: Emily Daugherty, Jenna Wilcox, Clare McCormick, Kelsey Holmes, Gov. Chet Culver, Caroline Capper, a Simpson College grad; Lindsey Johnson, Stephanie Sonderegger, Sherly Jacob, unidentified; Martha Willits; Will Zhang.
Alums, including Iowa Gov. Chet
Culver, share dinner in China
Seven Drake alumni teaching English
in China this year were invited to attend the welcoming dinner for Iowa Gov.
Chet Culver, GR'94, in Shijiazhuang during his recent economic development trip
to Hebei Province in China.
When Gov. Culver learned from Gov.
Hu Chunhua of Hebei that some Drake students were also invited to the welcome
dinner, he told the Hebei Governor that he is also a Drake graduate and he was
eager to meet his fellow alums.
The alumni having dinner with
Culver were:
Emily Daugherty, ED'07
Kelsey Holmes, BN'07
Sherly Jacob, AS'07
Lindsey Johnson, ED'07
Clare McCormick, ED'07
Stephanie Sonderegger, AS'07
Jenna Wilcox, AS'07
Culver, a former teacher who
earned his master's degree in education from Drake, chatted with the graduates
for about 10 minutes before the dinner began. They were happy to share with him
their experiences in Hebei.
Also joining in the discussion was
Martha Willits, president and CEO of the Greater Des Moines Partnership. She
said she hoped the alums would return to Iowa when they have completed Drake's Chinese Cultural Exchange Program.
This year, 20 Drake alumni have
been participating in the program, which continues to grow in popularity. In
August, 25 Drake alumni and one graduate of the University of Iowa will travel
to China to teach there for the 2008-09 academic year. Most of those alums —
21 to be exact — will be teaching in Hebei Province.
"We're pleased to have a 30
percent increase in participation for this next year," said Kirk Martin,
director of the program. "It shows there's growing interest in living and
working in China. It also demonstrates that we're providing a program that
graduates are finding valuable. The dinner our alumni enjoyed with Gov. Culver
is just one indication of that."
More information on Gov. Culver's
trip to China is available online.