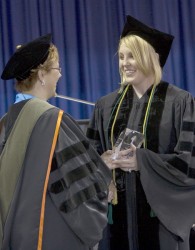 Dean Raylene Rospond presents the Karbeling Award to Kayla Hatt.
MEDIA CONTACT: Lisa Lacher, 515-271-3119, lisa.lacher@drake.edu
Drake University graduate Kayla Hatt has received the second Karbeling Memorial Leadership Award for her leadership and outstanding contributions to Drake and the pharmacy profession. The award was presented at Drake's recent College of Pharmacy and Health Sciences Hooding Ceremony, recognizing students graduating with a Doctor of Pharmacy degree.
This annual award is given to recognize a pharmacy student who has shown leadership in professional education, association work, community service and pharmacy practice, in honor of Jerry Karbeling, a 1974 Drake pharmacy graduate and an outstanding alumnus who died in 2005.
"This is amazing because of what it stands for," said Hatt of Ankeny, Iowa. "To even be compared to Jerry or even in the same sentence with him is amazing."
"Students were very important to him," she said. "He spent time with them and got to know the students and help them understand their role in the pharmacy profession."
Hatt will begin her residency in July at Ohio State University Medical Center and will receive administrative, managerial and clinical training.
At the same time, she will be working on her master's degree in health system pharmacy administration. Her clinical interest is in ambulatory care, but she also is interested in academia. Hatt said she hopes to be a faculty member at a college of pharmacy.
CoraLyn Trewet, a clinical pharmacist at Broadlawns Family Health Center, praised Hatt for her extracurricular activities, especially her internship with the Iowa Pharmacy Association.
"I believe one true quality of leadership she exhibits is she did not desire to hold the top position in so many of these groups, but rather saw herself as a member of the pharmacy and student community, and used her strengths where needed," Trewet said. "This defines leadership through action. Kayla is truly a person who walks the walk instead of talking the talk."


Karbeling: Longtime leader and advocate for pharmacy at Drake
Karbeling was the owner of Big Creek Pharmacy in Polk City, Iowa, and senior vice president for public affairs and corporate development for the Iowa Pharmacists Association. He was a member of Kappa Psi, a professional leader, community advocate and strong supporter of Drake's pharmacy program.
The class of 1974 established the Karbeling Memorial Leadership Fund, which supports the annual award for a student who demonstrates Karbeling's values and actions including professional involvement, commitment to practice and political advocacy.
Candidates for the Karbeling Leadership Award are full-time Doctor of Pharmacy students in their fourth year of the Professional Pharmacy Program enrolled in the College of Pharmacy and Health Sciences at Drake.
Students can self-nominate or faculty, staff and students in the college may nominate a student for the award. Applicants are evaluated on political advocacy, professional organization leadership, community service and personal leadership.
In the future, the Karbeling Leadership Fund will sponsor the Karbeling Lecture as an annual event dedicated to promoting the pharmacy profession as vital to the health care system and a professional development program on political advocacy for pharmacists and student pharmacists.
For more information about the Karbeling Fund, contact the College of Pharmacy and Health Sciences at 515-271-4049 or emily.westergaard@drake.edu.