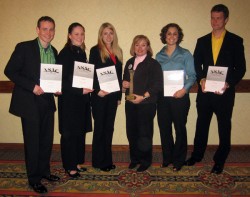 Seniors Greg Miller, Ashley Householder, Katherine Liljegren, Professor Dorothy Pisarski, Lauren Kowalsky and Matt Meszaros. Not pictured: Grace Wittenberg.
MEDIA CONTACT: Lisa Lacher, 515-271-3119, lisa.lacher@drake.edu
Thirty-four Drake University advertising seniors recently placed second at the regional level of the American Advertising Federation's National Student Advertising Competition in Omaha, Neb.
The Drake team finished just one point behind the first-place team from Webster University. At the awards presentation, the judges made mention of just how close the ranking was between the top two schools.
For the competition, students in Drake's Advertising Capstone course developed a $25 million campaign for America Online's Instant Messenger (AOL AIM). They prepared a Web site redesign for AOL and multimedia advertising summarized in a 32-page pitch book. During the competition, the students gave a 20-minute presentation, and then participated in a 10-minute question-and-answer session.
Their professor, Dorothy Pisarski, was honored at the competition with the Distinguished Advertising Educator of the Year Award for the Ninth District of the American Advertising Federation.
"The fact that the students were awarded second place and I was named the outstanding educator shows the outstanding quality of our advertising program," said Pisarski, assistant professor of advertising. "Drake's School of Journalism and Mass Communication has both a dedicated faculty and a dedicated student body."
Students put their knowledge, skills to work for a real client
Several students said the competition provided a valuable learning experience.
"The NSAC was a great way to gain experience before setting out into the world of advertising," said Lauren Kowalsky, senior account executive for the AOL campaign and a resident of Whitefish Bay, Wis.
"As a capstone class, we were able to simulate an advertising agency and work together to create a competitive campaign for AOL," she added. "Not only did I learn a lot in the process, but our second-place finish really made the hard work worth it."
"Once we made the pitch, I knew that we had placed somewhere in the top three," said Grace Wittenberg, a member of the pitch team and a resident of St. Paul, Minn. "We had nailed it. One of the judges even told us it was the only presentation for which he did not have suggestions. Placing second made it all worth it."
Competition rewards team effort, knowledge, creativity
Drake has competed in this tournament for four consecutive years. The AAF competition aims to provide undergraduate advertising students with realistic problems that can be solved through team effort, knowledge and creativity — ultimately to demonstrate the effectiveness of advertising education.
"The experience in Omaha was fantastic," said Piotr Jakubowski, a senior from Jakarta, Indonesia. "We were given the opportunity to bond with each other and realize that it's about doing our best work."
The American Advertising Federation in Washington, D.C., representing 50,000 professionals, protects and promotes the well-being of advertising through a unique, nationally coordinated grassroots network of advertisers, agencies, media companies, local advertising clubs and college chapters. More information is available online.