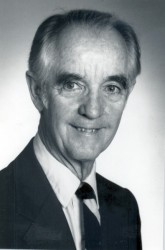 C. Boyd Granberg
C. Boyd Granberg, longtime faculty member and former dean of
the College of Pharmacy and Health Sciences at Drake University, will be
honored at a reception at 5:30 p.m. Friday, May 16. The event, which is free
and open to the public, will be held in the Weaver Lobby of Cline Hall, 2802
Forest Ave.

Granberg has been an advocate for ongoing personal and
professional development, and is nationally known for his active involvement
and leadership in professional organizations. Drake will unveil the C. Boyd
Granberg Professional Leadership Award, which is named in honor of Granberg.
Granberg: longtime educator and professional leader
Granberg has devoted his career to academic scholarship,
service to his profession and the enlightenment of his students. He joined the
Drake faculty in 1950 as associate professor of pharmacy and served as dean of
Drake's College of Pharmacy and Health Sciences from 1977 to 1984.
His leadership in the college and devotion to teaching contributed
significantly to the great success of Drake's pharmacy graduates.
He has done research in the area of health care and the
political-social-economic aspects of pharmacy and has been widely published in
his field. He served as editor of the American Journal of Pharmaceutical
Education from 1961 to 1974. He was editor of Remington's Practice of Pharmacy,
collaborated on Remarkable Pharmacists and was chapter author of the 15th
edition of Remington's Pharmaceutical Sciences.
He is past president of the American Association of
Colleges of Pharmacy and the Iowa Pharmacists Association, which named him
Pharmacist of the Year in 1984. He also received the Drake Medal of Honor in
1998 and the Weaver Medal of Honor in 2000.
First Granberg Award to be announced next year
The C. Boyd Granberg Professional Leadership Award will be
presented annually to one faculty member for his or her service to professional
organizations. The first award will be announced in 2009.
The main purpose of the award is to foster ongoing personal
and professional development of pharmacy faculty, recognize leadership role
models and encourage involvement by students in professional organizations.
Award recipients will deliver a lecture to student graduates
of the college's Student Leadership Series at the year-end banquet in April.
For information on the award criteria and nomination
process, or to contribute to the Granberg fund, contact Emily Westergaard,
major gift officer for the College of Pharmacy and Health Sciences, at
515-271-4049 or emily.westergaard@drake.edu.