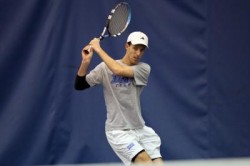 Maor Zirkin
CHAMPAIGN,
ILL. – As they walked off the Atkins Tennis Center courts following their 4-1
NCAA Tournament setback against No. 18 LSU on Friday, May 9, the magnitude of
all they had accomplished hit the eight members of the Drake men's tennis team.
An
undefeated season wasn't meant to be as the Tigers dealt the Bulldogs their
first loss in 25 matches to end Drake's campaign at 24-1. LSU improved its
ledger to 15-8.
"It was a
phenomenal season and one for us to remember," Bulldog head coach Chase Hodges
said. "I hope the guys can take the experience and continue to improve."
Junior Maor
Zirkin (Kibutz Hazor, Israel) accounted for the Bulldogs first NCAA Tournament
point under Hodges as he downed Jan Zelezny at the No. 2 singles slot, 6-1,
6-2. He raced out to a 3-0 lead in the first set versus 106th-rated Zelezny en
route to taking a 6-1 decision. He continued the momentum in the second set
registering a 6-2 triumph to finish off his 175th career victory.
"It is great to win our first NCAA Tournament point at
Drake, but unfortunately we lost the match," Zirkin said. "They always say the
first point is the hardest and hopefully it won't be the last for Drake. The
bottom line is we lost and it is a team season but this victory proved to me
that I can compete with the best at this level."
"Maor
played outstanding as he dominated his opponent to pick up big point for us
that was a highlight of today," Hodges said. "The key word today was
opportunity and we had opportunities but we didn't cash in on those and that
was the difference in match. We came out in doubles and LSU took it to us. We
had guys who fought all the way to the end."
The duo
of Zirkin and senior Dalibor Pavic (Adelaide, Australia) came out of the gate
strong in their showdown with the 16th-rated doubles team of Michael Venus and
James Cluskey assuming an early 2-1 advantage. The Tiger tandem fought back
with five unanswered points to push the margin to 6-2 en route to taking the
match, 8-3.
LSU
secured its other victory on the No. 2 court where Colt Gaston and Kevin
Dessauer pushed past sophomore Bokang Setshogo (Gaborone, Botswana) and junior Ricardo
Lau (Tegucigalpa, Honduras), 8-2.
LSU made
a late and controversial change in its line-up between the doubles and singles
matches and the disruption had an affect on the bottom of the Drake rotation.
The
momentum of Zirkin's win was fleeting as the Tigers regained the lead for good
on the No. 6 court where Sebastian Carlsson dispatched of junior Ivan Mendoza
(Wellington, New Zealand), 6-1, 6-1.
After
dropping his first set at the fifth position to Cluskey, 6-0, Setshogo fell
behind 5-3 in the second frame before battling back to cut the deficit to 5-4.
In an epic game in which both sides exchanged and staved off advantage, Cluskey
was able to finally put away Setshogo, 6-4.
With LSU
up 3-1, the affair then swung to the fourth singles court where Lau was
battling Julien Gauthier. After falling in the first set 6-1, Lau had battled
back in the second set before Gauthier put him away with a 6-2 decision to finish
off a 6-1, 6-2 triumph.
Freshman Mauricio
Ballivian's (Santa Cruz, Bolivia) contest at No. 3 against Dessauer was
abandoned with the score tied at 5-5 in the second set. Dessauer had claimed
the first set, 6-1.
Coming up
short in his attempt at becoming Drake's all-time wins leader was Pavic, whose
tilt with No. 26 Venus was halted in the second set with Pavic up 6-5. Venus
had won a tightly-contested first set, 7-5.
"We had
Pavic and Mauricio still battling in winnable matches when the match was called
so it would have been fun to see play out," Hodges commented. "I'm very proud
of guys and effort and to coach a great group of student-athletes."