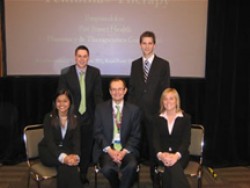 From left to right: Kevin Weber and Seth Housman (back row);
and Kejal Patel, Lon Larson 
and Jennifer Lose (front row).
MEDIA CONTACT: Tory Olson, 515-271-1834, tory.olson@drake.edu
The Drake team of Seth Housman, Kejal Patel, Kevin
Weber and Jennifer Lose finished third in the national Pharmacy and
Therapeutics Committee Competition at the Academy of Managed Care Pharmacy
(AMCP) annual meeting in San Francisco.
"Our team did an outstanding
job," said Lon Larson, the Levitt professor of pharmacy administration.
"They enhanced the reputation of Drake within AMCP and managed care
circles."
The competition mimics the process used by hospitals and
insurance plans in deciding if a new drug should be placed on their
formulary. The team wrote a monograph of the designated drug, assessed its
cost-effectiveness and place in therapy and formally presented and defended its
analysis and recommendation.
"The experience of the competition and traveling to San
Francisco really opens your eyes to a side of pharmacy that you don't get to
see in school," said Weber. "The hands-on experience of competing
against several other determined teams helped us all develop
professionally."
The competition requires a breadth of knowledge and skills from both the
administrative and clinical sides of pharmacy practice – interpreting and
weighing studies of drug effectiveness as well as assessing the economic
implications for insurance companies or hospitals.
"Participating at the
national level was an amazing opportunity to see the pharmacy profession excel
in yet another direction," said Housman. "It opened up future career
opportunities and provided an amazing amount of networking with alumni and
prominent leaders in managed care pharmacy."
The Drake team was one of the
eight finalists in the national competition. To be considered eligible, the
team won the local competition and the AMCP national office selected them to
compete.
Drake has participated in the
competition since 2004. Drake teams have been among the top eight finalists
twice in the past four years, finishing first in the nation in 2004.
The AMCP is a national
professional society dedicated to the concept and practice of pharmaceutical
care in managed health care environments. With over 4,800 members nationally,
the academy serves to promote the development and application of pharmaceutical
care, representing the views and interests of managed care pharmacies and all
individuals. Information about the AMCP is available online.