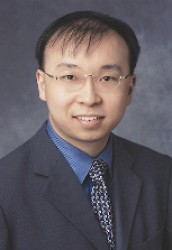 Peter K. Yu
MEDIA CONTACT: Peter K. Yu, 515-271-2948, peter.yu@drake.edu;

Lisa Lacher, 515-271-3119, lisa.lacher@drake.edu
Peter K. Yu, the Kern Family Chair in Intellectual Property Law at Drake University, recently accepted the Wenlan Scholar Chair Professorship at Zhongnan University of Economics and Law in Wuhan, China. Yu also serves as the director of the Intellectual Property Law Center at Drake.
Bestowed only twice since its inception, this honor was given during the fifth annual conference of the Center for Studies of Intellectual Property Rights at Zhongnan University. The Chinese Ministry of Education has designated Zhongnan University as a key research institute.
Through this arrangement, Yu will visit the university on a regular basis to provide lectures and seminars. He also will foster academic exchange and a close collaborative relationship between the Drake Intellectual Property Law Center and the Center for Studies of Intellectual Property Rights at Zhongnan University.
"I am greatly flattered by this immense honor," said professor Yu. "The Center for Studies of Intellectual Property Rights is a leading research center in intellectual property law and policy in China. Over the years, I have worked closely with my friends and colleagues there. I look forward to developing a deeper collaborative relationship between Drake and Zhongnan universities."
Professor Yu is a preeminent expert in intellectual property law and policy in China and one of the leading experts on Chinese law. He is writing the first casebook on Chinese law, which will be published by Lexis-Nexis. He also is at the final stages of completing his forthcoming book on U.S.-China intellectual property policy, titled "Paranoid Pirates and Schizophrenic Swashbucklers."
He recently discussed issues on intellectual property protection and Internet regulation in China at the University of Virginia School of Law, Fordham University School of Law and a conference organized by the Intellectual Property Academy in Singapore.
Professor Yu also delivered the opening lecture for the Scholarly Symposia Series at the University of Dayton School of Law, titled "Intellectual Property, Economic Development and the China Puzzle."
This summer in Hong Kong, professor Yu will co-organize the Sixth Annual Chinese Internet Research Conference, which he co-founded in 2003.
Drake University has a strong and longstanding record of academic exchange and collaboration with Chinese universities. Its Chinese Cultural Exchange Program facilitates exchanges of faculty, students and graduates between Drake University and educational institutions in China.
The Center for Global Citizenship — directed by Drake professor David Skidmore, a former Fulbright scholar at the Johns Hopkins-Nanjing University Center for Chinese and American Studies — has sponsored several China-related events. The most recent was a panel discussion on "The Eagle and The Dragon: Cooperation or Conflict in U.S.-China Economic Relations?"
Drake also has a partnership with Southwest University of Political Science and Law in Chongqing. In addition to students from Southwest University, Drake Law School recently hosted visiting scholars from Chongqing Normal University and the Hebei Academy of Agricultural and Forestry Science in Shijiazhuang.
During 2008-09, the Drake Intellectual Property Law Center will host visiting scholars from the China University of Geosciences in Wuhan and Zhejiang Gong Shang University School of Law in Hangzhou.