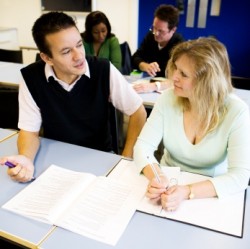 MEDIA CONTACT: Lisa Lacher, 515-271-3119,
lisa.lacher@drake.edu
Volunteer tutors are needed at the Drake Adult Literacy Center, which helps local residents improve their lives by enhancing their reading and writing skills.
One in five adults lack basic literacy skills, according to Anne Murr, coordinator of the center. "They cannot read to their children or grandchildren, can't read instructions on their medicine, can't fill out job applications," she said. "Give the gift of your time so that they can learn."
Orientation sessions for new tutors will be held from 5:15 to 8 p.m. May 19, 21 and 22 in room 213 of Drake's School of Education, 3206 University Ave. Tutors are required to attend all three of the sessions.
After completing their training, tutors meet one-on-one with one adult student for an hour twice a week at the center in the Drake School of Education.
The Adult Literacy Center, which has a waiting list of clients, has been part of the Drake University School of Education since 1976. Volunteers from the Drake and Greater Des Moines communities who are dedicated to literacy and community outreach staff the center.
For more information and registration, call 515-271-3982 or send an e-mail message to anne.murr@drake.edu. Additional information about the center is available online.