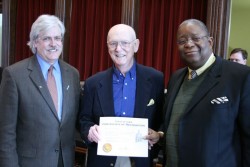 Sen. Jack Hatch, R. Dean Wright and Rep. Wayne Ford gather at the State Capitol.
The Iowa Legislature recently
honored R. Dean Wright, the Ellis and Nelle Levitt professor emeritus of sociology at Drake, for his
"lifetime of achievement and dedication to social justice, which have made
Iowa a better place for us all."
The House of Representatives
presented Wright with a Certificate of Recognition for his "commitment to
teaching and activism; as well as showing a commitment to social activism,
justice and community service."
The Senate approved a resolution
praising Wright for teaching "generations of students about poverty,
homelessness and crime."
His lessons weren't limited to the
classroom, however. He often invited his students to join in helping the
Salvation Army serve breakfast to homeless people living under bridges and on
the streets of Des Moines.
Wright joined the Drake faculty in
1971 and retired in 2004. He continued to teach classes through 2005 and in
2007 published his latest book, "Politics in the Human Interest: Applying
Sociology in the Real World" with William Du Bois.
The resolution described Wright as
a "tireless advocate and community activist for the poor, the homeless and
for juvenile justice."
The resolution also noted many of
the milestones that mark Wright's long and distinguished career as a teacher
and scholar. These include:
Conducting
research as a Fulbright scholar in India
Receiving
fellowships from the National Science Foundation, National Endowment for
the Humanities, among others
Chairing
the Iowa Criminal and Juvenile Justice Advisory Council for 14 years and
Attorney General Tom Miller's Task Force on Juvenile Justice
In addition, the resolution
commended Wright for his high level of community involvement, including his
work as an original board member of Urban Dreams in Des Moines. Wright's
tireless community service earned him myriad awards, including:
The
first Madelyn M. Levitt Distinguished Community Service Award
The
Drake Medal of Service
The
Public Service Award of the Iowa Corrections Association
The
Special Award from the Midwest Sociological Society
Induction
into the Iowa Volunteer Hall of Fame
The full text of the resolution is
posted on the Iowa Legislature's Web site.
The Senate also recognized
Wright's family, noting that he has "conducted his life and work in
partnership with his wife, Susan Wright (associate provost), and with his son
and daughter-in-law, Ehren and Michelle Stover-Wright, and grandchildren Aiden
and Ella."