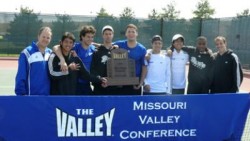 DES MOINES, IOWA – Drake University
has planned a public send-off for the Drake men's tennis team at 3 p.m. on
Wednesday, May 7. The Drake community and fans will gather in front of the
Drake Tennis Center at 2525 Clark St. before the Bulldogs depart for Champaign,
Ill., to compete in the first round of the NCAA Tournament.


The Bulldogs will be making
their third straight NCAA Tournament appearance and fifth overall in school
history as No. 46. Drake will face No. 18 Louisiana State (14-8) at 3 p.m. on
Friday, May 9.
The Bulldogs will tangle
with the Tigers in the first-ever meeting between the schools with the winner
advancing to face the winner of the Illinois/Xavier tilt at 2 p.m. on Saturday,
May 10.