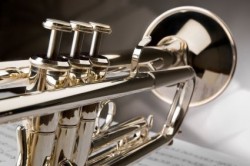 MEDIA CONTACT: Cindy Deppe, Grinnell College, 641-269-4834
The Drake University Brass Quintet will give a free concert at 2 p .m. Sunday, May 11, in Sebring-Lewis Hall of the Bucksbaum Center for the Arts on the Grinnell College campus in Grinnell, Iowa.
The quintet, which includes members of the Drake and Grinnell music faculties, will perform a program of new music, from a brass quintet classic to a tango.
The quintet consists of Grinnell faculty member Guinevere McIntyre, French horn; Drake faculty members Michael Short, tuba; Andrew Classen, trumpet; Grady McGrannahan, trombone; and Drake senior Justin Brookens, trumpet.
This spring, the quintet recorded "Sentient Terra," a four-part composition by Grinnell College senior David D'Angelo, a computer science and music double major from Indian Head Park, Ill.
The Bucksbaum Center for the Arts is located at 1108 Park St. on the Grinnell College campus. For more information, call 641-269-4567 or e-mail mcintyr3@grinnell.edu.