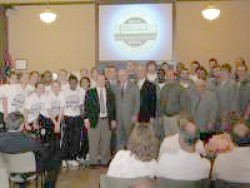 Drake basketball players pose for photos with City Council members.
MEDIA CONTACT: Mike Mahon, 515-271-3014
The Des Moines City Council honored members of the Drake men's and women's basketball teams on Monday as Mayor Frank Cownie issued a proclamation that called the 2007-08 basketball season "The Year of the Bulldog."
"The Drake basketball team showed heart, tenacity, character and came together during this past season to bring great recognition to Drake and the city of Des Moines," Cownie said.
The Drake men's basketball team won both the Missouri Valley Conference regular season and post-season conference tournament championships. The Bulldogs posted a school-record 28-5 mark en route to advancing to the NCAA Tournament for the first time since 1971. Drake also was ranked No. 14 in the final Associated Press poll.
The Drake women's basketball team went 23-11, claiming its first regular season MVC title since the 2000-01 campaign and its second straight appearance in the State Farm MVC Championship title game. The Bulldogs earned a spot in the Women's National Invitation Tournament and collected their first postseason victory since the 2001-02 campaign with a 65-56 home win versus Green Bay.
"It is great to receive this honor from the city of Des Moines," said Drake senior guard Lindsay Whorton to Mayor Cownie and members of the City Council. "We are fortunate to be embraced — not only by the Drake community, but the entire city. It is a great opportunity to receive this honor by the city and also to say thank you for the way you have supported us.
"There is no doubt that there are great things to come from both the men's and women's teams in the future. We look forward to seeing you all at games next year."