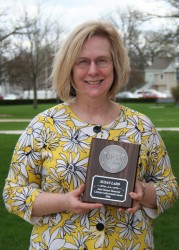 Susan Ladd holds the John Heisner Memorial Lifetime Achievement Award.
Susan Ladd, director of financial aid at Drake University, recently received the John Heisner Memorial Lifetime Achievement Award from the Iowa Association of Student Financial Aid Administrators (IASFAA).
This award is the highest honor IASFAA can bestow upon its members. Recipients must have actively worked with IASFAA and aided the profession in achieving its goals over a sustained period of time.
"I am so fortunate to have great colleagues and to work at an institution that recognizes the importance of being involved and working to make a difference," Ladd said. "Financial aid is not just about regulations; it's about helping students achieve their dreams of a college education. That's what makes receiving the John Heisner Award such an honor."
In nominating Ladd for the award, Aaron Steffens of Luther College noted that Ladd has served as IASFAA president, vice president, newsletter editor and is currently a committee co-chair. He also added that she is "a constant source of knowledge about both the profession and the association."
Ladd also has represented Iowa in the Midwest Association of Student Financial Aid Administrators, serving as vice president, state delegate, awards chair, secretary, finance chair, among other positions.
In addition, she has been active in the National Association of Student Financial Aid Administrators as a national delegate to the Board of Directors, as a commission director for the NASFAA national chair, as a chair of various committees and as a trainer.
"We have honored Susan Ladd in the past with the Distinguished Service Award, she has been a part of a committee that was recognized as Committee of the Year and three different presidents have bestowed the President's Award upon her," Steffens said. "Our MASFAA Colleagues have already honored Susan Ladd with their highest award, the Allan B. Purdy Distinguished Service Award, so I feel it only fitting that her state association give her its highest honor."
Ladd earned a bachelor's degree from the University of Northern Iowa and a Master of Science in Education from Drake. She joined Drake's Student Financial Planning Office in 1992 as assistant director of student loans and employment.
She was promoted to associate director and director of operations in 1995. In 2001 she was named campus-wide project manager for the implementation of the SCT Banner database system. After completing that project in 2004, she was appointed to her current position as director of financial planning.