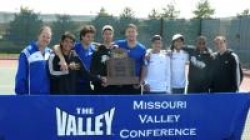 Team members proudly gather around the MVC Championship trophy.
The 46th-ranked Drake men's tennis team (24-0) will travel to Champaign, Ill., to compete in the NCAA Tournament against 18th-ranked Louisiana State (14-8).
The Bulldogs will be making their third straight NCAA Tournament appearance and fifth overall in school history.
Drake will tangle with the Tigers in the first-ever meeting between the schools at 3 p.m. Friday, May 9. If the Bulldogs win, they will play again at 2 p.m. Saturday, May 10.
The
Bulldogs captured their third consecutive State Farm Missouri Valley
Conference Championship title and NCAA Tournament berth with a 4-0
victory over Wichita State on Sunday, April 27.
Drake equaled a school record set during the 2006 campaign with its
24th victory and improved to 24-0 with the triumph, while Wichita State
ended its season at 19-5.
"To win our third consecutive title is very difficult and the guys made it look easy," Drake head coach Chase Hodges said.
"There was a lot of
pressure on us to win this championship and the guys got it done. We're happy to be going to the NCAA's for the third straight year. "
The victory moved senior Dalibor Pavic (Adelaide, Australia) into a tie atop Drake's all-time victory
list with Robert Novotny (1993-97) as he collected his 206th career
triumph as a Bulldog.