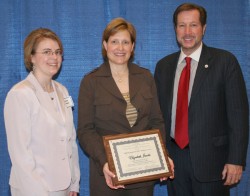 Pi Alpha Alpha President Katrin Fergus, Rep. Libby Jacobs and Drake President David Maxwell at the awards ceremony.
MEDIA CONTACT: Tory Olson, 515-271-1834, tory.olson@drake.edu
Iowa Rep. Libby Jacobs, R-West Des Moines, was honored for
her commitment to public service through her professional and personal
endeavors by Drake University's Pi Alpha Alpha honor society on Wednesday,
April 30.
Jacobs, who earned a Master's in Public Administration from
Drake in 1986, received the Distinguished Alumna Award at the Center for
Graduate and Professional Studies' annual luncheon honoring a graduate from the
MPA program. She serves as community relations director at Principal Financial
Group and a member of Drake's Board of Trustees.
"We are pleased to honor
Libby with the Distinguished Alumna Award that just brushes the surface of her
commitment to her community and the state of Iowa," said Charlie Edwards,
dean of Drake's College of Business and Public Administration. "We are proud
to call her a graduate of our program at Drake."
In addition, current students in the program are inducted
into the honor society. This year, there were 73 students inducted into the
society. Members are students enrolled in the MPA program, who have completed
at least 18 hours of graduate coursework with a 3.70 cumulative grade-point
average.
Pi Alpha Alpha is a national honorary society founded in
1974 to encourage and recognize outstanding scholarship and accomplishment in
public administration; to promote the advancement of education and practice in
the art and science of public administration; and to foster integrity,
professionalism and creative performance in public service.