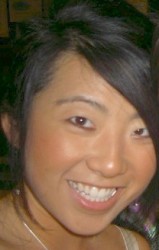 Linda Yang
Student earns Fulbright Scholarship to teach in Hong
Kong
Linda Yang, a senior at Drake University, has been selected
to receive a Fulbright Scholarship to teach in Hong Kong during the 2008-09
academic year.
"Linda's acceptance
demonstrates that Drake students can compete with top applicants around the
country in the rigorous Fulbright selection process," said Eleanor
Zeff, associate professor of politics and Drake's Fulbright program adviser for
the application process.
"The Fulbright
scholarship provides graduates with the opportunity to gain lasting
international experience and demonstrates the value of Drake's mission
statement to prepare students for responsible global citizenship."
Yang will teach at the Hong Kong Institute of Education from September to June as part of the Fulbright English Teaching Assistantship
program.
"I'm looking forward to meeting the 15 other students
awarded the English Teaching Assistantship," she said, "and working
with the students and staff at the Hong Kong Institute of Education."
To prepare for her assistantship, Yang will arrive in Hong
Kong in early August for a three-week orientation. She also will take English
teaching classes, including speaking, writing and pronunciation, as well as a
basic Cantonese course and courses on Chinese and Hong Kong culture.
"As English teaching assistants, we will have many
duties," Yang said. "We may facilitate discussions, help form reading
groups and help residence hall organizers plan different English-learning and
cultural extracurricular activities."
During the program, Yang will take two trips into the
Mainland to study Chinese culture.
"I'm looking forward to going back and reconnecting
with my Chinese heritage," said Yang, who was born in Beijing and moved
the United States at the age of 4.
Yang, of Sioux Falls, S.D., plans to graduate in May with
double degrees in secondary education with an English endorsement and magazine
journalism.