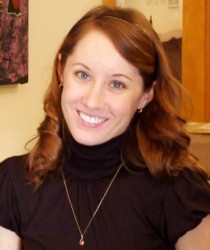 Kathryn Seckman
Drake student earns Fulbright Grant to research in
Morocco
Kathryn Seckman, a senior at Drake University, has been
selected to receive a Fulbright Grant for the 2008-09 academic year to study
the role of women in politics in Morocco.
"Katie is an outstanding student," said Eleanor
Zeff, associate professor of politics and Drake's Fulbright program adviser for
the application process. "The acceptance of her
research project demonstrates that Drake students can compete with top
applicants around the country in the rigorous Fulbright selection process."
Seckman of Colorado Springs, Colo., will go through a
pre-orientation in Washington, D.C. this summer and will travel to Morocco in
August. After arriving, she will take five weeks of
language training to adjust to the Moroccan dialect of Arabic.
"I am really looking forward
to having the opportunity to immerse myself in Moroccan culture, learn a new
language and explore an area of the world I've never seen, " Seckman said.
The nine-month Fulbright Grant will cover Seckman's travel,
research and living expenses for the duration of her project, "Voices of
Women in Moroccan Parliament." For her research, Seckman will conduct
personal interviews with Moroccan women in the lower
house of the Parliament and work with local women's organizations to explore
the effects of Morocco's quota system on female participation in the political
process.
"In 2002, Morocco established
a quota system for the lower house of Parliament mandating that 10 percent of
representatives had to be women," Seckman said. "This is a
significant step for a predominantly Muslim country with more traditional views
about the role of women in society."
While an undergraduate student at Drake, Seckman studied
abroad at a partner university in France for a semester, which she said has
helped to prepare her for Morocco.
"My study abroad experience
in France forced me to adapt to new and unexpected circumstances very quickly
and taught me that I had the ability to do it," Seckman said.
She plans to graduate in May with a bachelor's
degree in international relations and a Global Ambassador Certification.
Upon returning to the United States, Seckman hopes to enter a graduate program
in international relations and continue her language study in French, German
and Arabic.
Fulbright Scholarship program
Fulbright scholars endure a rigorous selection process
coordinated by the Institute of International Education and funded by an annual
appropriation made by the U.S. Congress to the Department of State and by
participating governments and host institutions.
The application process includes several stages involving
the J. William Fulbright Foreign Scholarship Board in the United States and
bi-national commissions and foundations in the individual countries.
The Fulbright program awards more than $250 million per year
to promote "cross cultural interaction and mutual understanding through
engagement in the community and on a person-to-person basis in an atmosphere of
openness, academic integrity and intellectual freedom."
More information about Fulbright grants and fellowships is
available online.