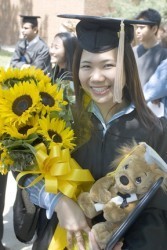 Three ceremonies for Drake graduates planned
More than 1,400 Drake University students will don their caps and gowns later this week for ceremonies marking the commencement rites of passage.
Approximately 750 seniors will be honored at Drake's 127th Undergraduate Commencement Ceremony at 10 a.m. Sunday, May 18, at the Drake Knapp Center, 2525 Forest Ave.
A highlight of the ceremony will be a keynote address by Drake President David Maxwell and a speech by Dan Sadowski, recipient of the University's Oreon E. Scott Award for the most outstanding senior.
Drake also will hold two commencement ceremonies for graduate students.
Former Iowa Gov. Robert D. Ray, BN'52, LW'54, will give the commencement address at the Drake University Law School Commencement Ceremony at 7 p.m. Saturday, May 17, at the Drake Knapp Center.
Ray served as president of the University in 1998-99.
Approximately 132 law students will be honored at the ceremony, which will be preceded at 6:45 p.m. by a bagpipe player leading a formal procession of law students and faculty wearing academic regalia to the Drake Knapp Center from Opperman Hall and Library, 2615 Carpenter Ave.
Approximately 550 graduate students will be recognized at Drake's Commencement Ceremony for Graduate and Doctoral Degree Recipients at 2 p.m. Sunday, May 18, at the Drake Knapp Center. Bob Woodward, professor emeritus of journalism, will deliver the commencement address.
In addition, Drake's commencement celebration will include three other events:
College of Pharmacy and Health Sciences Hooding Ceremony — 4 p.m., Saturday, May 17, Drake Knapp Center.
President's Reception for all graduates and their families — 4:30 p.m. to 6 p.m., Saturday, May 17, Parents Hall, Olmsted Center, 2875 University Ave.
Commencement Lunch — 11:30 to 1:30 p.m., Sunday, May 18, Hubbell Dining Hall, 1315 30th St. Cost is $6.75 at the door.
For more information, call Student Records at 515-271-3093 or 515-271-3901.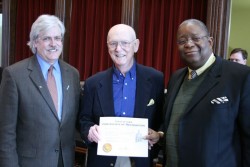 Sen. Jack Hatch, LA'72, GR'73, R. Dean Wright and Rep. Wayne Ford, ED'74, gather at the State Capitol.
Prof. Dean Wright honored by Iowa
Legislature
The Iowa Legislature recently
honored R. Dean Wright, the Ellis and Nelle Levitt professor emeritus of sociology at Drake, for his
"lifetime of achievement and dedication to social justice, which have made
Iowa a better place for us all."
The House of Representatives
presented Wright with a Certificate of Recognition for his "commitment to
teaching and activism; as well as showing a commitment to social activism,
justice and community service."
The Senate approved a resolution
praising Wright for teaching "generations of students about poverty,
homelessness and crime."
His lessons weren't limited to the
classroom, however. He often invited his students to join in helping the
Salvation Army serve breakfast to homeless people living under bridges and on
the streets of Des Moines.
Wright joined the Drake faculty in
1971 and retired in 2004. He continued to teach classes through 2005 and in
2007 published his latest book, "Politics in the Human Interest: Applying
Sociology in the Real World" with William Du Bois.
The resolution described Wright as
a "tireless advocate and community activist for the poor, the homeless and
for juvenile justice."
The resolution also noted many of
the milestones that mark Wright's long and distinguished career as a teacher
and scholar. These include:
Conducting
research as a Fulbright scholar in India
Receiving
fellowships from the National Science Foundation, National Endowment for
the Humanities, among others
Chairing
the Iowa Criminal and Juvenile Justice Advisory Council for 14 years and
Attorney General Tom Miller's Task Force on Juvenile Justice
In addition, the resolution
commended Wright for his high level of community involvement, including his
work as an original board member of Urban Dreams in Des Moines. Wright's
tireless community service earned him myriad awards, including:
The
first Madelyn M. Levitt Distinguished Community Service Award
The
Drake Medal of Service
The
Public Service Award of the Iowa Corrections Association
The
Special Award from the Midwest Sociological Society
Induction
into the Iowa Volunteer Hall of Fame
The full text of the resolution is
posted on the Iowa Legislature's Web site.
The Senate also recognized
Wright's family, noting that he has "conducted his life and work in
partnership with his wife, Susan Wright (associate provost), and with his son
and daughter-in-law, Ehren and Michelle Stover-Wright, and grandchildren Aiden
and Ella."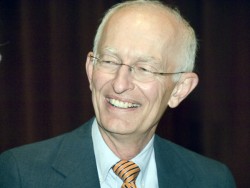 Richard Morrow
Morrow describes Weaver Medal as his greatest professional
achievement
Richard Morrow, the Ellis and Nelle Levitt
distinguished professor of pharmacology, recently received the Drake College of
Pharmacy and Health Sciences' highest award — the Lawrence C. and Delores M.
Weaver Medal of Honor.
"Receiving the Weaver Medal
is the single greatest honor of my professional career," Morrow said.
"Thank you to all who came
today: current students, former nursing and pharmacy students, other alumni,
Drake colleagues, family and friends. You honor me by your attendance,"
Morrow told the audience during his Weaver lecture.
He especially thanked his family
for supporting him throughout the years. Morrow said the three other greatest
moments of his life were when he married his wife, Sherry, and the birth of his
two sons, Mike and Dan, who recently wrote a book titled "Survival After
College."
"As I complete my 45thyear of college and move toward retirement, I may ask him [Dan] to direct his
second edition to an audience with a different definition of 'after
college,'" Morrow said.
Morrow described teaching at Drake
as more of an avocation and a hobby than a job. "It's pretty revealing
when I only say 'I'm going to school,' or 'I'm going to Drake,'" he said.
"Since 1972, I've never uttered the words 'I'm going to work.'"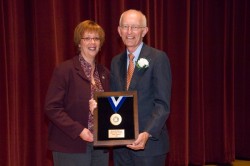 Dean Raylene Rospond presents the Weaver Medal to Richard Morrow.
In presenting the medal, Dean Raylene Rospond said, "Richard Morrow, through 36 years of dedicated service, exemplifies what it means to advance the mission of the college. There is no one that I consider more deserving of this honor."
Morrow earned his bachelor's in pharmacy from the University of Cincinnati in 1968, his Ph.D. in pharmacology from Indiana University Medical Center in 1972 and his MBA from Drake University in 1983. Having taught more than 20 different courses during his tenure at Drake, Morrow was twice recognized by the student body as College Teacher of the Year.
As a key member of the CPHS faculty since 1972, Morrow also has worked in a variety of administrative roles, including chair of the division of pharmacy sciences and as assistant, interim and associate dean. As an administrator, Morrow developed and implemented the combined pharmacy and law program and served as liaison with the Iowa Methodist School of Nursing. Morrow chaired and served on a variety of committees and task forces on the University level. He also has been a faculty adviser to a number of student groups and honor societies.
The Weaver Medal of Honor is made possible through the generous gifts of the Weaver family. Lawrence Weaver, a 1949 pharmacy alumnus, is dean emeritus of the University of Minnesota College of Pharmacy and Delores Weaver has been an active volunteer in her community.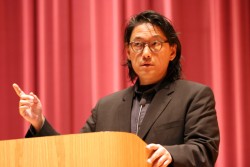 Li-Young Lee explains meaning behind his poetry in Drake's Sheslow Auditorium.
Drake and Des Moines National Poetry Festival partner to
bring award-winning poet
Drake University recently hosted award-winning poet Li-Young
Lee, the 2008 Des Moines National Poetry Festival poet, for an evening of
poetry reading. The event was made possible by a new partnership among Drake's English
Department and Center for the Humanities and the Des Moines National Poetry
Festival.
"We are delighted that we
have the opportunity to co-sponsor this event with the Des Moines National
Poetry Festival," said Drake President David Maxwell. "We take very
seriously our responsibility to serve the common good in our community, and
collaborations of this type with community organizations is a tangible symbol
of our commitment."
The Festival and Drake plan to continue to co-sponsor events
that bring authors, poets and artists to the Drake and Des Moines communities.
"We are extremely pleased that our friends in the Drake
English Department were open to a proposal that allowed the continuation of the
festival's presence on the Des Moines art scene," said Jim Autry,
co-founder of the festival. "We hope this will be the beginning of an
expanding relationship to the benefit of both Drake and the festival."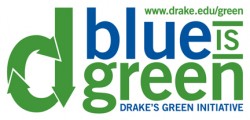 Drake president announces new environmental initiative

Drake University President David Maxwell recently announced
a new environmental program that commits Drake to doing everything it can to
minimize its carbon footprint and impact on the environment in general.
The new Drake Blue is Green Initiative stems from Drake's
role as one of the charter signatories to the American College and University
Presidents' Climate Commitment.
Drake has established a Sustainability and Oversight
Committee under the direction of Vicky Payseur, vice president for business and
finance. The committee has been working to make Drake a greener campus. More
information about the Blue is Green Initiative is posted on the Drake Web site.
"As we move forward, you'll be able to see Drake's
progress in this area," President Maxwell said in a speech to Drake students
during Earth Week. "But I want to make sure you know how much has been
done already."
He then listed the following accomplishments, which have
enabled Drake to reduce gas usage by 27 percent and electricity consumption by
15 percent over the last seven years:
– Investing
$11 million to improve the efficiency of the campus heating and cooling system
– Installing
motion-control light switches
– Adding
vending misers to save energy on all vending machines
– Converting
to compact fluorescent light bulbs throughout most of campus
In addition, the University has taken the following measures
to protect the environment:
– Distributing
1,000 CFLs to students and faculty during Earth Week
– Installing
Energy Star washers and dryers in all residence halls
– Enabling
students, faculty and staff to ride DART buses free with the goal of reducing
travel by car
– Using
biodiesel fuels for the campus lawn mowers
– Providing
green chemicals to custodians for cleaning and disinfecting
– Moving
toward greater use of electronic documents and storage
– Focusing
building projects on renovation and remodeling, including the Quad residence
halls and Cole Hall
– Employing
LEED (Leadership in Energy and Environmental Design) principles wherever
possible in building projects
– Using
recycled materials wherever possible in building projects
– Establishing
a pilot recycling program in several buildings this spring with plans to
implement the program across campus in the fall
The University's academic programs also reflect Drake's
green culture and commitment:
– Drake
offers a major in environmental science and policy
– Students
have restored a large prairie area on campus
– The
MBA program offers a focus on sustainability
"We still have a lot to do," Maxwell said in his
Earth Week address, "but there's been enormous progress and enormous
commitment in recent years. The Sustainability and Oversight Committee will
continue to build on this progress."
"We need to remember it's not just an institutional
responsibility, but a personal responsibility as well," he added. "I
encourage each of you to think about your individual, personal impact on the
environment and the ways in which you can reduce it."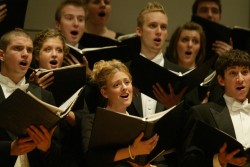 Drake Choir to give concert, then embark on European tour
The Drake Choir, the University's select touring choral ensemble, will travel to Italy and Austria from May 22-June 3, performing concerts in Rome, Assisi, Florence, Salzburg, Melk and Vienna.
The ensemble will provide a preview of its tour program at a special pre-tour concert at noon Wednesday, May 21, on the Jordan Stage in Sheslow Auditorium. An ice cream social, sponsored by Drake President David Maxwell, will immediately follow the performance. Both the concert and social are free and open to the public.
Aimee Beckmann-Collier, Drake director of choral studies, conducts the choir, which will give concerts in famous cathedrals such as:

St. Peter's Basilica in Rome
The Basilica di San Francesco in Assisi
Chiesa Santa Maria dei Ricci in Florence
Domkirche and Christuskirche in Salzburg
Melk Abbey near Vienna
St. Stephen's Cathedral in Vienna
Between performances, the 52 students in the choir will do lots of sightseeing, including a visit to the Mauthausen Concentration Camp. Their daily journal entries about the tour will be posted, with accompanying photos, on the choir blog.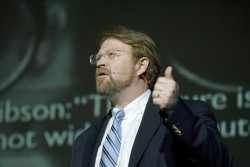 Erik Peterson speaks in the Drake Knapp Center.
Bucksbaum Lecture draws crowd of 1,900
Approximately 1,900 people attended last week's Bucksbaum
Lecture to hear futurist Erik Peterson discuss the coming "Seven
Revolutions."
Peterson is senior vice president of the Center for
Strategic and International Studies, a nonpartisan Washington D.C.-based
think-tank. Despite his important work, he's less well known than other
Bucksbaum Lecturers such as Bob Costas, Magic Johnson and Jane Goodall.
Advertisements, along with stories about Peterson in the Des
Moines Register and on Iowa Public Radio, helped raise awareness of Peterson's
lecture.
"The Bucksbaum seems to have developed its own buzz,
and people are clearly trusting us that the speaker's going to be good,"
said Drake President David Maxwell.
Peterson's forecast for the future translates into one of
simultaneous "hyper-peril" and "hyper-promise." During his
lecture last Wednesday, the implication was loud and clear: Today's leaders
must be willing to adapt their strategies to survive in an ever-evolving world.
Peterson shared his view of the future in seven areas in
which global change is expected to be most revolutionary between now and the
year 2025: technology, population, resource management, knowledge, economic
integration, conflict and governance.
The presentation outlined key global observations that
hinted at what is to come in the coming decades — for better or worse. Among
Peterson's observations and projections:
*
If the current rate of growth continues, nearly 8 billion people will populate
the world in the year 2025 – compared to merely 1.5 billion people at the time
of Drake's founding in 1881. And by the year 2050, there will be a higher
number of older people than younger people for the first time in history.
*
By the year 2025, water as an available resource will be discussed in much the
same way as oil is talked about currently. Likewise, the global demand for oil
will explode – by the year 2030, China will rival the United States in terms of
millions of barrels of oil imported daily.
*
The achievement of the completion of the Human Genome Project – which maps the
30,000 genes and sequences the three billion chemical base pairs that make up
the human genome – signals the expectation for increased scientific advances in
the areas of proteomics, genetics and germ-line therapy. With these new
advancements, children born now could feasibly live into the 22nd century.
*
Due to the near-instantaneous nature of media, Peterson asserted that the
importance now lies not in how we manage information, but how we judge it.
"Progressively, we choose our truth," he said, "which leads to
an environment of reduced decision times, more complex issues, polarized
positions and instant pressure."
*
At the current growth rate of aggregate output, the combined economic forces of
Brazil, Russia, India and China will overtake the G6 countries by the year
2040.
*
A high probability exists of an event involving weapons of mass destruction
taking place over the next 20 years.
*
Some 37,000 nongovernmental organizations were registered in the year 2000, and
their impact is becoming increasingly influential in world affairs.